Editor Comments
by Steve Whittenberger
We hope all of you had a nice holiday season with family and friends and had a chance to kick back a bit and reflect on what was a pretty good year. Like most years there were events that stood out from the rest and most brought good memories. As it is in life, we also lose some of our good friends and family members but on reflecting on their lives they brought a lot of joy to us. Passing on but certainly not forgotten… their memories will linger with us.
I've been watching some documentaries a bit during some of this winter weather one of which featured a lot of flying by RAF Spitfires. What a beautiful symmetrical airplane. I can see similarities between it and the Swift … smooth lines, graceful in the air… sometimes a bit grumpy on the ground and rightfully so as both the Swift and Spitfire were built ruggedly and built to fly. Later in this newsletter you will see some of the work being done by our French Connection… now 9 strong and growing … as they get organized and fly. … fly … fly. They seem to be all over France doing air shows and racing around pylons and whatever. Very progressive and a joy to behold. We have a lot to do this year and the calendar is filling up already. We need volunteers for special projects and activities so please read Will Roberson's comments carefully. Sun n Fun and Swift National at Bowling Green are just around the corner so start working that into your planning. Please help out with our current fundraising project of Swift Bricks. The bricks are a nice way to honor a current or former family member or close friend that loved flying. This will be pretty special when complete. OK…..time to start getting the dust off your Swift, get it. oiled up, review your flight and maintenance procedures… and even though we have a few chilly weeks to go in some parts of the country… bundle up and get going. The wild blue awaits. SJW
By the way….last month we stated the original factory bricks were obtained by the RRSW whose president at the time was Stan Price. We correctly identified Hal Cope as one of those transporting the bricks to Athens, but erroneously left out the hard work done by Dan Kennedy in getting the factory bricks on the way to Swift Headquarters. Our apologies gentlemen.


Board Chairman Comments
by Will Roberson
I, for one, am excited about the coming year. We had a great year in 2014, lots of Swift activity and this year will mark a special year for Swift….our 70th Anniversary. Many of you can vividly recall the 50th down in Texas and what a special year that was. We are certainly hoping to equal that this year at Bowling Green and are looking for a nice turnout in June.
On that note, if you have any suggestions on ways to celebrate this anniversary please let Pam or I know. This could include: photos we could put in a folder or book, stories, remembrances of members who have passed. I have always enjoyed hearing the fun activities that we enjoyed so many years ago that help us remember our pioneers in Swift.
That doesn't mean we are totally focused on the past as we have many challenges to meet this year. As you start the new year please give some serious thought for volunteering for one of the following:
 Update of the Operations and Maintenance Manual. This is not rocket science, it will just take a little time to review the book, make suggestions, incorporate new or updated data that has come forth via the newsletter or from your knowledge or from a knowledgeable mechanic or instructor. Please give this some thought. Steve Whittenberger has volunteered to help you edit and write it when the data gets collected. There is a lot of great talent out there in Swift land and we could use your help on this project.
 We need someone to input data to Tracy Rhodes for the web site.  This will just take a little time and effort and for anyone conversant with a computer it should not be an onerous task. Please call Pam for details and thanks for volunteering.
 New position. President of Swift. As discussed in last months newsletter Asa Brown is heading up a search committee to find someone interested in helping manage and lead Swift. This person … man or woman… need not reside in Athens, TN but will need to move about the country to represent Swift at various events. As in the past and when necessary we can provide some basic compensation for expenses. We have good management at Swift HQ but we need someone to take some of the load off Pam and work closely with the Swift Board and other aviation entities. Please give this some thought. The committee will be contacting some who they think might be interested in this position but in any case a dedicated volunteer is needed. Additionally, we would like to have this person in place by Swift National in June.
Fundraising. We have a start on fundraising in 2015 as Frog Jones … our fundraising chairman … is already working sponsors for us. Jim is looking for 5 or 6 Swifters to help out and would like them from all areas of the country… especially the regional Swift Wings/Groups. Additionally, we need a good Swift… preferably donated or donated with partial payment… for a raffle bird. This is a good tax write off and it certainly will help Swift. If you have any other ideas for fund raising please let Frog know at jim@dixie-industrial.com or tele: 770-527-9036.  Frog can't do it alone so please consider this worthy effort. Lastly, I would like each regional Swift Wing or Group also consider doing a fundraising project for Swift… Please let me know if you can help.
Another way to help with fundraising is to just round off your check for Swift dues to a higher number. Many of our members just round it off to $100. It is all tax deductible. Every donation helps. Also if you are doing Spring cleaning in your garage or hangar please consider just donating those aircraft items you think you no longer need to Swift. We will give you a slip for the value received and you can also use that for a tax deduction. That way your hangar is tidied up, you have a tax deduction and Swift can sell the part to help our bottom line.
Why are we doing this? Swift is a good organization and one of the best type clubs in the nation. The main thing we need to do is to finish what we started with the new Swift Facility and build some reserve funds so we can meet your every expectation in parts and organization. Many thanks!!!  Will
In Memory of Charles "Charlie" E. Cummins
As we start the new year we regret to say we have lost the oldest surviving member of the initial cadre of Swifters. Charles E. Cummins (Charlie) passed Sunday Jan 4 2015. Our thoughts and prayers are with his family in this difficult time. Our thanks to Keith Cummins, his son, for the following information.
Charlie was one of our earliest Swifters and jumped at the chance to become a member and in fact was the first person to answer the October 1968 ad in Trade a Plane to our President Charlie Nelson. Therefore, Charlie Cummins became Swift member Number One. At the time he did not have a flyable Swift, but loved the airplane and wanted to get close to others who owned them in order to learn the aircraft and to properly finish his project Swift. At the time he was flying pipeline patrol for Pipeline Gas in a Cessna 182.
He found his Swift in 1963 via a friend near St Louis, MO who knew of a Swift that was sitting in parts in the backyard of a widow with the remaining parts stored in the lady's garage. So he and the friend plus 9 year old son Keith went to pick it up in a flat bed grain truck. As with many such "finds" it was in worse shape than imagined, sitting in a mud puddle in the back yard and obviously had been used as a "jungle gym" by some children. Starting at 11 PM they loaded the truck and headed back to their home. So for the next 10 years Swift N78096 (later N96CC) was a work in progress. (We will finish this story next month.)
Charlie enlisted in the Navy toward the end of WW II and was assigned to NAS Miami for flight training. His goal was to fly carrier aircraft and get into action with the Navy anywhere they needed him. Because the pipeline was full at the time for training slots he was put in hold status and they finally decided to send him to college until a slot opened up. Unfortunately that was not to be as WW II ended and he was released from duty without getting his shot at pilot training.
Through the next few years he did complete flying training and flew with Pipeline Gas starting with a Cessna 172 in the 1950s and later a Cessna 182 starting in the 60's. Charlie was also an accomplished A&P and later an IA and used his skills in working in many aviation related positions as well as his pipeline duty. He continued to fly for Pipeline Gas and a parent company Panhandle Eastern in Colorado while flying a turbo Cessna 206 until the mid 1990s. Charlie worked diligently over the years on all things Swift and implemented many modifications including 210 Engine conversion, small wheels, special motor mounts and others. His modified engine mount allowed for more space from the firewall to facilitate engine repairs and yet it was done with a stock cowl. Many of those who have this mount attest to the easier maintenance with it.
Charlie was a special Swifter, fun to be around, always in the middle of the action, always a strong supporter of all things Swift and kept his Swift until failing health in 2009/2010. His slightly damaged Swift was sold to Mark Holliday in Colorado who refurbished it and then sold it to a man in Texas.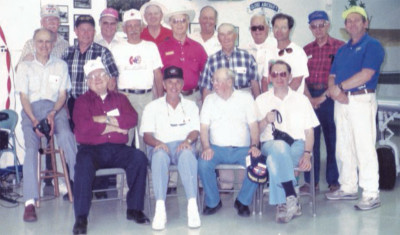 This 1995 photo was taken of Charter Members attending Swift National. Charlie is standing second from the right. We are forever grateful for our time with so many of these extraordinary members who are no longer with us but live in our hearts and the spirit of Swift each and every day.
Swift National Update – June 10 – June 14
by Jerry Kirby
As you might recall, the Tennessee Volunteers with some assist from the SSAG are well along with our plans for our Swift National at Bowling Green (BWG). Will Roberson, Dave Carpenter, Jim Roberts, Paul Mercandetti and I have visited BWG several times now and have made contact with Rob Barnett from the airport. Rob has been very enthusiastic about our forthcoming fly-in and has been extremely helpful in arranging the facilities for us. The airport itself has lots of room to host us and has excellent facilities on a par with Dayton Wright Brothers that we used last year. This is a non controlled airport with a nice 6500′ runway that other groups have found to be highly satisfactory.
We will have a large hangar to operate from that has clean modern facilities, a board room that will accommodate our Board meeting and Formation Clinic. We have already arranged for the set up of tables, chairs, bar area etc.. and most meals will be at the hangar. The hotels are nearby (less than a mile) and rental cars can be obtained just across the street from the hangar. All in all a good set up. We are working on details for some potential hangar space (2 hangars) in the event of inclement weather… more on that later.
One of the main attractions in Bowling Green is the manufacturing facility for the Corvette auto plus the Corvette Museum. We will split up into smaller groups for these tours on Friday and we will get you signed up for these at registration. In the museum you can tour it at your leisure but in the manufacturing facility we will have guides to explain the processes and equipment. All in all a really nice tour.
Also, available in the area downtown is the Corsair Distillery makers of fine Vodka, Gin, Rum etc. Nearby is a train museum and of course a few miles away is Mammoth Cave for you spelunkers. Plenty to do and see and of course we expect we will spend a good deal of time at the airport as we usually do.
We are excited about Swift National this year as it will also be Swift's 70th. After all these years our Swifts are still one of the very best aircraft out there. So please mark your calendars for June 10 – 14 and set your plans to include this in your summer travels. We would hope to have 50 – 60 Swifts if the weather cooperates and look forward to seeing old friends from all over the country and other parts of the world.
We will be sending out a registration form shortly and it is important that you fill it out and send it back promptly. This greatly helps our planning for meals, cars, trips, and hotels. And please do not hesitate to call or email if you have any questions. This should be a very memorable and fun Swift National … do no miss it. See you there.   Jerry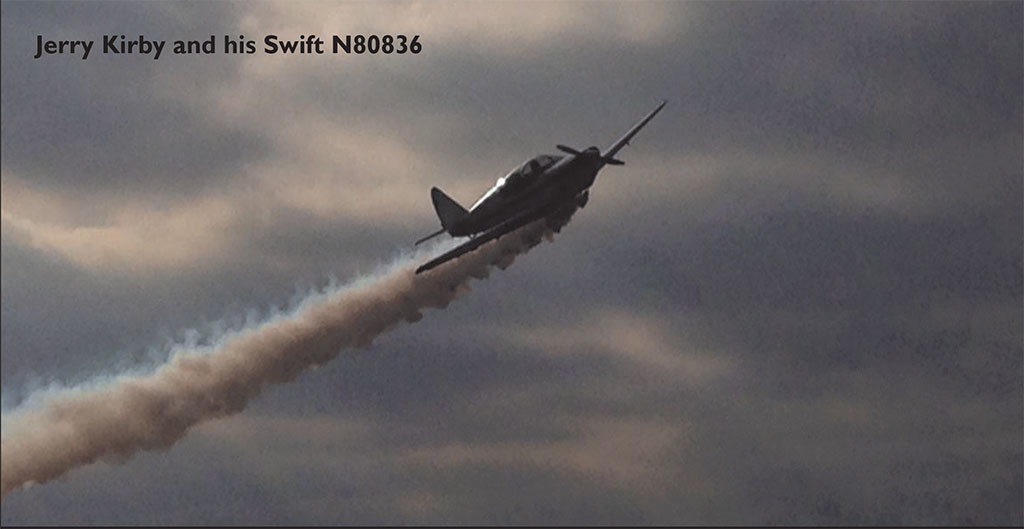 Executive Director Comments
by Pam Nunley
As Jerry mentioned, please watch your email/mail for your "Pre-Registration Form" and information packet. Send it in promptly as this will also make the check-in process run much smoother for you and the Registration crew. So, plan for a great time with Swift friends and lots of fun flying and activities!
Brick Sales— Many thanks to those of you who have stepped up and answered the call for support by purchasing either the Globe Factory Bricks and/or the Replica Brick Pavers! We are definitely off to a good start but are a long way from our goal being able to fund the completion of our facility and sustain your organization. Below is a list of those who have purchased their Bricks. To all of you … THANK YOU!  To those of you who are still putting it off, please send in your form!  Challenge your friends to do the same. WE CAN ALL DO THIS TOGETHER!!
Globe Factory Brick Program
Paul & Sandy Mercandetti
James M. Jones
David DeVries
Charlie Sidenstricker
Pickens Freeman
Guillaume Feral
Dave & Debbie Carpenter
Roger & Ann Scott
Scott Anderson
Will Roberson
Roger Weber
Jerry Kirby
Steve & Joyce Whittenberger
Replica Brick Program
Mick Supina
Steve Roth & Lynn Dawson
George Harrison
Garry & Linda Brown
Pickens Freeman
Eric W. Bulger
Dave & Carol Tennant
Steve & Joyce Whittenberger
If you have misplaced your forms please call HQ's or email us and we can send you one by any method you desire. In the event you missed last months Newsletter, here is copy concerning details of both Brick Donor Programs:
Swift Fund Raising Brick Programs
We are getting into high gear on the Swift Brick program. These mementos are part of our Swift tradition and the Globe factory bricks date to 1942. As you can see from the picture below they cleaned up nicely and the engraved plaque really stands out. As mentioned before, these will go on a wall inside headquarters in an attractive display of our Swift heritage. There are only 150 of these and we have sold almost 20 already. We want to complete the sale of these as soon as possible as the funds from these will push us along to our goals. Also depicted below are the replica bricks that will be place around the Globe Swift flagpole that was rescued for us by Hal Cope, Stan Price and the rest of the Red River Swift Wing. This will be a very nice and unique display of both 8 x 4 and 8 x 8 bricks honoring family members, Swift members, and friends. Christmas is right around the corner and these will make a very nice and special gift. If you cannot locate the forms that were included with a previous newsletter, please see the Swift Web Site or contact Pam at Headquarters to have one sent to you.
[ Factory Brick Program Form ] [ Replica Brick Program Form]
Parts Department — Please take note that we have in stock a fresh supply of all seal kits for your Swift. Get your order in so that you will have them on hand and be ready for the upcoming fly-in schedule. Remember, each kit will rebuild both sides (where appropriate). W also have new PMA approved parts in stock and ready for shipment:
The long awaited #3371-1/2 Pulley Guards. These can be set up for use as the –I or –2. $68.00 ea.
#11105- 1 Horizontal Stab. Front Channel $164.80 ea. #11112 Horizontal Stab. Rear Channel $164.80 ea. #16084 Chrome Adel Gear Struts and #16085 Adel Gear Strut Bushings.
Your Parts Committee is continually working to provide you and your Swift with much needed parts & accessories.
Swift Formation Committee
by Michael Kennedy
Formation— As we start a new year it is time to dust off your formation manual and get re-acquainted with all the signals and procedures. Please get with your buddies and start practicing and just work through it together. It is also time to renew your FAST Formation Cards … so send along your $15 renewal fee to Swift HQ to get your new card. We will have a formation clinic and flying contest once again at Swift National so get your team and be ready. I expect the Burrito Brothers from Diamond Point will be in the hunt as well as the Carolina Sea Dogs and the Tennessee Tuxedos. Maybe we will have a mystery challenge team this year as well. Blue skies and smooth air.
Sun-n-Fun
Sun n Fun this year is a bit later than normal… Tuesday April 21 — Sunday April 26. For those who went last year we re-established Swift in the type tent and we had a lot of fun working the table, telling tall tales, enjoying the shade and a front row seat to the air show activities. John Drago has once again volunteered to get us going so all we need now is some Swifters and some volunteers to run the Swift table in the type tent. Since the date is a bit later this year that will likely mean it will be a bit warmer and sunnier….which could translate into good flying weather. Of course you know what they say about predicting weather…. timing has a lot to do with the accuracy of the weather guess. John has also said we could possibly have a Swift row for parking but we will need to know in advance the approximate number of spots we will need. Please give this some thought and let Steve Whittenberger (386-846-5132) or sjwhitt@gmail.com know of your intentions. More on this later but put the dates on your calendar April 21-26.
What about Nuts and Bolts?
Quick Quiz: (Answers at end of article)
Aircraft bolts are usually designated A/N. What does A/N stand for?
A/N is the only designation for an aircraft bolt. T or F
An A/N bolt has a:   a. Class 2    b. Class 3    c. Class 4    d. Class 5 thread fit?
A/N bolts are usually coated with:  a. Zinc   b. Bronze   c. Cadmium   d. Chromate
An A/N bolt usually has a "J" thread which reduces stress thereby increasing fatigue life by: a. 20%   b. 30%   c. 40%   d. 60%
Bolts: So what does all the nomenclature mean when you buy a bolt? Say a AN3H-6A. Well, diameter is the first number and in this case it is a 3/16; H means it has a drilled head; the 6 is the length and it includes the threads… In this case it is 6 eights (3/4 in) inch long; the A means it is an undrilled shank. Note: Grip is also important and Spruce or Wicks etc. have a bolt selection chart or calculator where you can look up the grip and matching length.
Nuts: Nuts are nuts …..sort of. There are 3 common varieties of locking nuts that are a bit different. Elastic stop nuts or nylocs (AN365) are an accepted method for a lock nut. (They are not used in high heat situations or on rotating parts or in the control system.) All metal stop nuts (AN363) can be used in high heat situations. Castle nuts (AN310) are for use where a nut working loose would be catastrophic i.e. controls etc. A trusty cotter pin then becomes your insurance on that installation.
Washers: Pretty straight forward. AN 960 are plain washers… fitted to the bolt; AN970 Large area washers are meant to spread the load over a larger area; Lock Washers can be split, or toothed (internal or external). Remember to put a regular washer under them to protect the surface.
Bottom Line: Hardware store nuts, bolts, washers DO NOT provide you the proper strength, manufacturing standards or design for your aircraft. For the few pennies saved using this Chinese junk could cost you your valuable aircraft.
(Answers: I. Army/navy 2. False, A/N or Mil Spec (MS) mean the same 3. Class 3 4. Cadmium 5. 40%)
Team Swift Patroille de France
This past year was a year of real progress for our Swift French Connection. They have continued to organize, fly, practice and work their way into the French aviation community.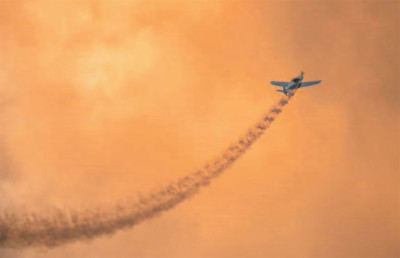 Romain Deveaux reports they flew in 8 airshows all over France and also did some racing around 35 foot inflated pylons in a race format. They were sponsored by Bell and Ross which dramatically helps them at airshows and events. The following pictures are just some of the evidence of their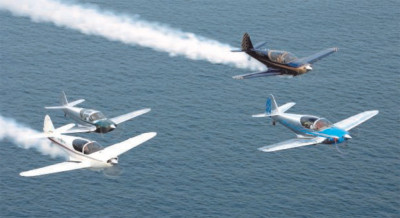 continued activity in doing what all good Swifters do … fly their Swift. If you look closely in the four ship picture you can easily recognize some beautiful Swifts that not too long ago graced the Swift fly-ins here in America. Ed Lloyd's N3856K now owned by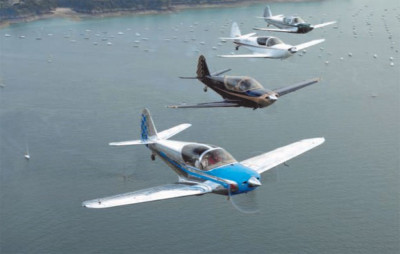 Christophe Chicouene, Terry Bloom's N3719K now owned by Romain Deveaux/Olivier Lorino; and Richard Gulley's N969RG now owned by Guillaume, Feral (F-ATZN). According to Romain, there are now 9 Swifters in France and they are looking for a couple more Swifts.
Apologies to all the other Swift owners in France as we do not have current pictures of your Swifts… but… we would welcome a current shot of you and your Swift. Please send it to Pam at HQ.
It is also looking good for the Swift French Connection to have 4 Swifts at the Paris Air Show this summer. Wow! If so, that would be a real step up into the higher echelons of aviation. Well, as long as the Swifts will be there …. why not fly them. Sounds great to this editor. All the best to our friends in the French Connection.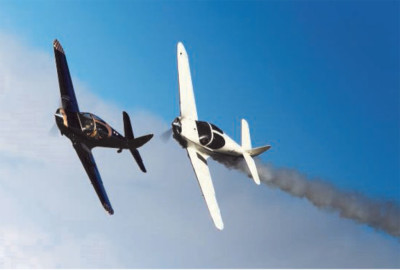 Swift N3856K owned by Christophe Chicouene (formerly Ed Lloyd) hanging out with some fast company … the French Patroille Aero demonstration team.
Photos courtesy of  Cedric Lavocat and web site patrouille-swift.fir