Editor Comments
The Southern Swift Air Group (SSAG) once again visited Dayton Wright Brothers Airport (KMGY) this past week in preparation for Swift National in just 20 days or so. This is shaping up to be a terrific Fly In for Swift Members and families. We will spend our time on the airport (MGY) in the Commander Aero, hangar which has been generously loaned by the owner Mr. Bosch. We have spent a lot of time with our project people … Mike Williams and Sherry Diamond and they are pulling out all the stops to insure we have what we need for a successful fly in. The airport itself is wide open and has almost no obstructions, a good 5000′ runway and a beautiful grass parking area directly in front of the hangar. Bring your tie downs. This hangar is easily identified because it is a curved roof hangar and the largest on the field. In case there is any question … it has a red roof that you can identify from miles away and can also be seen as you turn off Exit 41 from 1-75. Trust me … you can't miss it.
All of the set up is done by Commander Aero personnel and this hangar can accommodate at least 300 for a banquet….well more than adequate for our needs. Very comfortable, restrooms, meeting rooms Wi Fi etc. It faces east ….which makes it especially comfortable in the late afternoons.
We will have all the events in this hangar and other than the hotel, the USAF Museum and other local attractions… this will be your home away from home. We believe you will find it most suitable. We will have the standard registration line where you can complete all of your sign ins and of course we will have the Swift store with hats, shirts etc. as always. Early registrants will also receive a Wright "B" Flyer model signed by Amanda Wright Lane … at no cost. (The Swift store will have additional models in case you want to purchase one.) Please come prepared to have a great time. We are sure you will. Later in the newsletter you will find an agenda of events and at registration we will provide the latest schedule.



In general we will have forums, the trip to the USAF Museum, tour of the Wright "B" Flyer next door, formation school and competition, good food and plenty of it, evening events capped by the usual Saturday night awards banquet and a raffle of excellent gifts plus a silent auction for many items generously donated by aerospace companies. On Friday night we will have a very special guest speaker… Amanda Wright Lane, the last active direct line member of the Wright Brothers plus a missing man formation and a bagpiper.
The food is excellent and will vary from night to night ….Wednesday through Saturday. Noon lunch will also be available. The good news is that the hotel is only I mile from the airport so it will be readily accessible by our shuttle van or your private vehicle. If you do have a private vehicle… please share a ride when you can since we are expecting a large attendance.
Also in this issue is the story of two of our longest term Swifters and their Swifts. Porter Houston Jr's Swift that has been in their family since 1947 and Bill Shepherd has had his Swift for 50 years. Both of these Swifters plan to be at Dayton and it will be a great time to sit and talk with them about Swift ownership and their adventures through the years. It seems very appropriate that we will be celebrating these long time Swifters while in the very cradle of aviation in America. After all, the Swift was designed barely 40 years after the initial flights of the Wright Brothers and was produced just months after WW 11 and the greatest production surge of aircraft in world history. This is our legacy and our durable Swifts are proof of the superior production practices in use at that time.

Board Chairman Report
by Bill Kientz
The first item of business is getting funding to keep the doors open. Our best near term opportunity to raise some funds is N3271 K. I have now flown this Swift several times since the upgrades and want to report that this is one sweet flying Swift. It was really enjoyable flying N3271 K back from Sun n Fun and this is a great Swift just waiting for some lucky owner. I want to thank all the people from the Southern Swift Air Group who worked so hard on this bird and met the challenge of really getting it ready for sale. Bud Brown, Bo Mabry, Dave Carpenter, Charlie Sidenstricker, Pick Freeman, Sylvia Brown, Frog Jones, Buddy Kientz, Steve Whittenberger and yours truly just kept working on this Swift until we got it right The paperwork is excellent/ well documented and all we need now is to get it sold. This is very important for Swift and PLEASE let your friends and acquaintances know of this Swift. All it needs now is a good home.
As you might know I am coming to the close of my tenure as your Board Chairman and it has been quite a ride. We have moved forward… sometimes not as fast as I like … but we have gotten the new headquarters building and parts department built and are moving forward with McMinn County to complete the museum part of the building. Our parts department is functioning well and thanks goes to Dave Carpenter for keeping up with demand. Pam has done a great job keeping us going on a day to day basis and is now moved into the new offices along with getting the drawings and parts in place. I want to thank all the Board Members who have worked hard on your behalf to keep Swift functioning. Ours is a unique organization quite a bit different from most small 501 (c) 3 aircraft entities. We own our own facilities, we have a museum, we own the type certificate etc….and we do this all with volunteers and one paid employee. Our members are the most loyal in the industry and their involvement is evidenced by the volunteerism we generate when the need arises. We are spread all over the USA and have many members is several foreign countries. Thank you all for what you do and contribute. I will still be engaged with Swift and Swift projects but will now have a bit more time to enjoy the camaraderie of Swift You are always welcome at Creve Coeur and I hope you will stop in and visit on your journeys crisscrossing this great country of ours. My best to you all and keep up the good work!
Executive Director Comments
First, I want to thank all of you who have been so supportive and patient during my recovery. Therapy is going well and I am looking forward to getting back to normal.
We have moved into the new office and parts building. There are no words to express how much improved our daily operations are. It is wonderful to have our data and records in a climate controlled atmosphere and easily accessible. We are still in the process of getting the parts department set up and moved. At this time we are working between the old and new facilities for parts. It is a workable situation while in transition. It is important to take our time and do this correctly and efficiently.
This organization is very fortunate to have volunteers like Paul Mercandetti and Ken Coughlin. As you know, Ken came to Tennessee from Oklahoma City and carried the load here during my surgery and immediate recovery. Then Paul Mercandetti stepped in and, almost single handedly, moved all the office equipment, desks, etc. to the new building. Paul spent several days working here at Athens to insure that I had everything set up to operate the office from the new building. He is scheduled back this week to continue work in getting our drawings placed for safe and easy access. THANK YOU PAUL & KEN!!!!!
We plan to have our N3271 K at Dayton next month. We need your help in getting this great bird sold. It is a good one…. So, please help us get the word out.
Pre-Registration for Swift National 2014 was a great success! It looks like we are headed for a great event. If you did not get your early registration in, we still would like to know your plans as you firm them up in order to have a more accurate count for food, etc. We are excited and looking forward to seeing you there!
Porter Houston Sr & Jr and Swift N78171
This story is particularly unique in that it involves the longest family owned Swift in our history. It all started in 1947 with an Ad in Trade A Plane by Robert Simon of Philadelphia, PA. "Swift 125 Deluxe: 130 hrs. Absolutely perfect, metal hatch, radio receiver. $1995; never cracked (crashed?)" From that Ad Porter Houston Sr drove up from his home in Maryland with his wife and son Porter ir … then only 5 years old. Porter and his mother waited in the car until the deal was completed, then got out to view the Swift. It was beautiful and as advertised…. perfect in every way. Porter Jr. fell in love with N78171 at that moment and this feeling has never abated in the 67 years since. The original equipment on this September 1946 Swift was fairly austere with only basic flight instruments (Tack, Amp gauge, Oil Pressure, Airspeed, Altimeter, VVI, Turn Bank) … no radio … no navigation equipment etc. A Globe pilot delivered it from Texas to the first owner in Maine using only dead reckoning and a map. N78171 then went through two other owners in that first few months so that when Porter Houston Sr bought it he was in fact the 4th owner although the Swift was essentially brand new. As mentioned in the Ad it only had 130 hours on it… a Halicrafters radio had been installed and … it still had that new airplane smell.
For the next few years, Porter Sr would fly his wife and son down to the seashore in the Swift. The procedure was that 5 year old Porter Jr would sit in his mother's lap for takeoff and then enroute he would climb up on the hat shelf for the rest of the trip. On landing the procedure was reversed. Later, when Porter Jr got too big for the hat shelf, he and his father would fly down to the beach together in the Swift.
Through the years, Porter Jr flew numerous times with his father and when he was 16 started flying the Swift in earnest. Although he could fly the Swift well, his father insisted he have 30 hours in the Swift before he allowed him to solo it During this time his father was very busy with his business/job and was involved in building very high power "Voice of America" radio stations all over the world under contract to the US Government but he always had time to fly the Swift when he was home. Home soon became Annapolis, MD and the Swift was kept at Glenn Martin Field (KMTM).
In 1976 Porter Jr became the primary pilot on the Swift and continued to enjoy the beautifully handling aircraft for many years. All through this first 29 year period they continued to fly the 125HP Continental Engine but after – 2900 hrs. it was decided it was time for a new engine. They selected a Continental 0-300A 145 HP engine and installed it in 1978. Along with that they were the first to apply the Machen STC for increased weight to 1835 pounds. In 1991 this engine was again overhauled and is the engine still installed in this very original, highly polished Swift. Fuel capacity is still the original 26 gallons and though there are a few safety mods N78171 is still very original.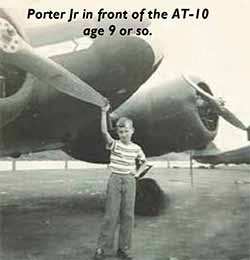 In over 67 years of ownership this Swift has never been on its belly and in fact has had very little damage. The only exception was a partial gear collapse when landing on a grass field and that resulted only in damage to the "stair step" pitot tube and a few marks on the wing tip. In fact all of the skin on this Swift is original and it is corrosion free. Remarkable!!
After installation of the 0-300A Porter has been very pleased with the performance. A new Sensenich Prop (73/58) was installed in 1995 and the performance is exceptional. This Swift cruises at 120 KTS, climbs and performs well. In fact, Porter did a controlled climb attempt in N78191 and reached an altitude of 19,750ft and was still climbing at 150 fpm. Not bad for an 0-300A. Anybody out there every been that high in a Swift?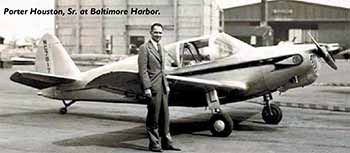 N78171 is now hangared at York, PA and is still as pristine as when new. Over the years Porter has flown it to McMinn Co many times, flew it to Kentucky Dam 3 times and has been to numerous other fly ins across the Eastern half of the USA. Porter and N78171 have collected many awards over the years. 1976: Most original, Kentucky Dam; 1983: Best Sport Landing, McMinn; 1986: Outstanding Swift, McMinn; 1988: Outstanding Swift McMinn; 1990: Grand Champion, McMinn; 1994: Grand Champion, McMinn; 2002: Sun n Fun best classic 100-165 HP. Congratulations for all this hard work.
Today, N78171 boasts many upgrades and mods but still carries forth the original aspect of a good Swift: metal prop, gear motor upgrade, the O-300A engine, electric Aux pump, Century wing leveler, Whelen wing tip strobes, Cleveland Wheels and Brakes, GEM, Bracket air filter, M-20 air/oil separator, B&C lightweight starter, FAA/PMA light weight battery.
Porter still flies his Swift regularly and this exceptional Swift looks as good today as
when the Houstons first purchased it in 1947.  A remarkable journey for N78171 and the Houston family. Well done!
[All photos courtesy of Porter Houston Jr.]
Bill Shepherd and N10SS
Fifty years and counting for Bill and N10SS. Bill originally bought his Swift (N80800) from a crop duster pilot in Jackson, Mississippi in 1964….50 years ago this year… and with it came a lifetime of memories with this great Swift. Obviously this is one of the longest owner/Swifts partnerships in the fleet. Bill lived in New Orleans at the time and was very happy at first with his original 85hp bird. But the need for speed moved him to convert to a 150HP Lycoming and to install some Corbin mods for much more performance. Along with this rebuild came a new serial number…..N10SS which became to be known everywhere as "10 Sugar Sugar". Both of the pictures below show this Swift … the one with the Superdome in the background was from the late 1970s and the other is from Diamond Point in 2011. In reality not much difference externally. You can notice the distinctive Corbin rear window but what you can't see is that Bill's Swift has a special door for entry. The squared tips allow for a bit more roll rate and maneuverability which Bill used to the maximum in his earlier days with Swift.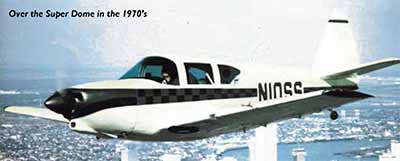 In the 1970s, Bill was a regular at Swift National…which in those days was held at Kentucky Dam….and he teamed up with Chuck Lischer at those gatherings to do what was most likely the first team acrobatics in the Swift. They put on many air shows over the years and by all accounts they were exceptionally talented and well appreciated. Also, at Kentucky Dam in 1970 N10SS was named Grand Champion and again in 1971 it was named Grand Champion. This was because the first paint job caused some corrosion problems… so it was stripped … and repainted once again … essentially a new bird once again.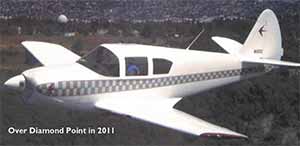 The list of modifications on this Swift is long, much like most others in the fleet. Along the way, he reskinned much of the aircraft, added the small wheels, added long gear doors but did keep the original cowl which has been modified. He has kept his Swift as light as possible over the years which accounts a good bit for the speeds he can reach. Bill also installed a full IFR panel so that he could commute to his job with Delta Air Lines.
When he rebuilt his Lycoming 150 he added a few touches that again added to the performance. His 150 HP became a fuel injected 160 HP with different cylinders and added a good boost to its performance. After a few years with this engine it finally "blew up" as Bill describes it and he had to put it into a field via a dead stick landing. This event then led Bill to his current engine a Lycoming fuel injected 200 HP …. which he loves and enjoys all the performance of a top of the line power plant.
Bill's flying career has spanned over 60 years and his interest in flying started through his father who was an aircraft technician with TACA Airlines. Bill pursued flying and soloed at 16 in a J-3 Cub at Lake Front airport (near New Orleans) in 1954. Subsequently he worked as a pilot for an oil company flying seaplanes for over 7 years and served with the US Marines before he went with Delta in 1966. Bill's children also inherited his love of flying and all became pilots. Bill's son Will was born the year before Bill bought the Swift….so Will grew up around aircraft and attended many fly ins. Will started flying sailplanes at 14 and got his license at 16 in a Luscombe that Bill had a share in. He built time rapidly, flew the Swift around the New Orleans area, towed banners… anything to build time. After college he flew for an Allegany Commuter, progressed to World Airlines and then on to American Airlines. Will, like his Dad enjoyed aerobatic flying and the two of them did many shows around Pascagoula in the late 80s. They called it the Will and Bill show. In the early 1990's Will was becoming a well known air show pilot in his own right….flying a Pitts S213. In 1995 he had a busy air show scheduled and an new aircraft … a Sukhoi and he did his routine in it. Will was living his dream… airline pilot, air show pilot and working his way into the National Air Show Industry … his "weekend" job. Sadly, Will's dreams were cut short and the lives of his parents, friends and siblings diminished in March 1996 when he was killed in the crash of his Sukhoi while flying a practice routine in New Orleans East.


Bill also owned a Swift project with Nick Fisher of New Orleans (N90361). Since his youngest daughter Emily was beginning to fly … he let Nick take over the project and he bought a 125 Swift (N78279) and taught Emily to fly it… and subsequently she soloed it on her 16th birthday in March 1989. Later that year she flew it Swift National while Bill and Dot flew N I OSS to McMinn. This Swift eventually went to Scott Anderson and then on to Steve Roth and is now owned by Keith Ellis in Dayton, Tennessee. Bill also taught his oldest daughter Jill to fly and she soloed on her 16′ birthday in a Luscombe that he was part owner of. Over his career Bill has amassed over 30,000 hours of flying and still actively flies his Swift from Diamond Point, Washington as much as he can. Bill has flown over 100 types of aircraft and has owned seven. He also flew his Yak I I in air shows for Russian Air shows for 8 years and has been an instructor for over 40 years. He and his wife Dot bought their property at Diamond Point in 1989, worked diligently with the architect and builder and moved into their beautiful home full time in 1991. What could be better … the views of the sea and mountains and a runway in the back yard.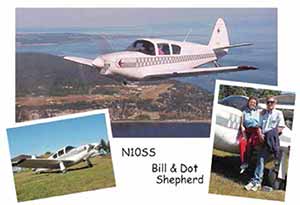 You have all read the stories of Diamond Point: the beauty, the Straits of Juan de Fuca, the mountains and the quirk of nature that allows them to fly well more than one would expect in that environment…. and Bill and Dot were the first Swifters at Diamond Point before several more moved there to join them. There are hundreds of stories of this stalwart group of Swifters …and most of them are true. Of course Bill is part of the fun loving Burrito Brothers formation team that sits atop the Swift formation world. If all goes as planned they will be at Swift National in Dayton and have issued a challenge to the other formation teams to come and try to take their trophy.
Over the years Bill has been an ardent supporter of Swift and has been on the Swift Board for many years and also served as Vice President for several years. He's attended too many Swift Nationals to count and has provided support to many events. One year he flew his 160 HP Swift to Sun n Fun and entered it into a race in its class.
Charlie Nelson intervened and requested he fly the Swift Museum owned 85 HP in that class instead. After much discussion it was agreed that Dick Collins and Jerry Mahoney would fly his 160 HP and Bill would fly the Swift Museum's 85 HP. The results were spectacular as both won races in their class.
Bill and Swift N10SS have had as full a career as one could imagine. Bill … over 60 years a pilot … N10SS his Swift companion for over 50. An exceptional partnership by any standard. So is Bill done with tinkering with airplanes? Not hardly. He is now working on a Czech Aero I45 … the only one of its kind in the United States. Congratulations to Bill and his Swift on their long career together. Bill and Dot love Diamond Point and plan never to leave….the beauty, the serenity and of course the airplanes. What could be better. All the best to the Shepherds. Well done. (Ed. Note: Bill's story is one of the most extraordinary flying careers I have known….a story to be admired, emulated, and appreciated by all … Well done.)
In Memory of Dr Terry Sheldon Bloom
We are sorry to report that a good friend and loyal Swifter has passed. Terry was born in 1943, the son of Russian immigrant parents, in Baltimore, Md. The family subsequently moved to Miami in 1946 where Terry grew up and went to school. In high school he was active in music and marching bands and played the tuba. Later in life he would still play the tuba and in fact played with several musical ensembles in cities where he lived. He graduated from the University of Florida in 1968 with an MD degree. He spent the next two years at Parkland Hospital… which is associated with the University of Texas… doing post graduate study in surgery. Terry was very patriotic and felt the need to give back to his country that had treated he and his family so well and subsequently entered the United States Air Force as a Flight Surgeon. He was based at Kadena AB, Okinawa supporting the wing and squadron pilots and navigators. He flew many missions with them both in Japan and Korea in the RF-4C and F-4E. This flying encouraged him to get his pilot's license through the Kadena Flying Club. He separated from the Air Force with the rank of Major in 1973 and returned to the University of Florida to get specialty training in Oncology. Subsequently he joined that staff at Halifax Hospital in Daytona Beach where he practiced medicine for many years. Although he "retired" in 2004, he continued to practice oncology medicine on a temporary basis to help out the staffs of hospitals in Florida, Tennessee, Virginia, Indiana, Minnesota, North and South Dakota.
He and his wife Kathy lived in Spruce Creek for many years before moving to Kathy's hometown in Tennessee in 2009. During this time Terry was a very active flyer and he and I shared many trips up and down the Florida coast in our Swifts. Terry was interested in all aspects of flying and I taught him to fly formation and he became quite adept at it … which was not surprising as he was an excellent pilot. The longest trip we took was to Monet, Missouri for the Swift National in 2005. Terry's sense of duty, his humor, intellect and natural curiosity never waned. At age 70 he bought a Segway and demonstrated it to me at campgrounds at Sun n Fun and Oshkosh. Although he was sure I could ride it I never set foot on that contraption. Terry got a kick out of that. I distinctly remember his funny grin as he did circles around me on that thing. At my age….discretion took the high ground. Terry was a great friend to me and he is greatly missed. A true blue Swifter to the core. By the way, it was his Swift (which he put a lot of improvements on) that Romain flew to France last summer. Sadly a great friend, Swift pilot, doctor, father and husband has gone west.
Your updated agenda for Swift National 2014
Wright Brothers Airport, Dayton (MGY) is included with this issue.
*Be prepared for a fun and rewarding silent auction. We have generous donations from David Clark, Concorde, Lycoming, PLB from ACR-ARTEX, Gibson and Barnes Headset case, JPI Fuel Transmitter, Rosen Sun visors, RAPCO Vacuum Pump, 50% off GAMI injectors, Gill, El Atltitude Super Clock and more!!
[Download pdf file of Swift National Agenda]
Swift National Fly In Agenda
Wright Brothers Airport Dayton (MGY)
June 4 — June 8, 2014
Wednesday June 4
9:00 AM – 6:00 PM——–Arrivals and Convention Registration
11:00 AM or later———-Hotel Registration – Hilton Garden Inn and Hampton Inn
12:00 NOON—————Lunch
1:00 PM——————–Gatherings, Tie Down Aircraft, Go Visit other small museums
5:00 PM——————–Day 1 Debriefing in Hangar
6:00 PM——————–Casual Dining in Hangar (Beer, Wine, Water, Sodas available all days)
Thursday June 5
8:00 AM – 9:00 AM——-Board meeting – Conference Room in Hangar
9:00 AM -12:00 PM——-Formation School
9:00 AM – 12:00 PM——Visits to Wright B Flyer Museum – Hangar Next Door
These visits will be IAW the time you signed up for and will be in groups of 10-12 (30 min each tour)
Silent Auction bidding begins* (You may donate an article for the auction if desired, plus we have many donations from industry.)
12:00 PM——————-Lunch at Hangar
1:00 PM – 5:00 PM——–Visits to Wright B Flyer Museum Continue
Forums
Formation practice
Visits to other Museums in the Area: Wright Cycle shop, Huffman Prairie, USAF Museum, National Aviation Hall of Fame etc.
See Brochure in your registration pack.
5:00 PM——————–Daily debriefing – Main Hangar
6:00 PM——————–Dinner – Main Hangar
Friday June, 6
8:30————————–Bus departs Hilton Garden Inn for USAF Museum, Swift Vans Depart plus private/rental vehicles. Please share your vehicle.
9:00 AM – 3:45 PM——–Tour USAF Museum….Lunch in Museum Cafeteria as desired (See registration pack for museum highlights)
9:45 – 12:00 PM————Bus departs for Restoration Area/ Presidential aircraft area.
3:45————————–Bus, Vans, Vehicles depart for Hotels
5:30 PM———————Daily Debriefing in Main Hangar
6:00 PM———————Missing Man Formation and Bagpiper
6:15 PM———————-Dinner: Guest Speaker… Amanda Wright Lane
8:00 PM———————After Dinner Camaraderie
Saturday June 7
9:00 AM——————— Swift Annual Business Meeting in Main Hangar
10:00 AM- 12:00PM——-Forums
10:00 AM – 4:00PM ——-Visit local areas of interest as desired
12:00 – 1:00 PM ————-Lunch
2:00 PM———————-Formation Competition
5:00 PM———————-Daily Debriefing
6:00 PM———————-Dinner – Guest Speaker Mike Williams
7:30 PM———————-Announce Winners of Silent Auction, Raffle
7:45 PM———————-Announce Winners of Annual Swift Awards
Sunday June 8
8:00 AM – 12:00 PM——- Begin Departures
Fly safe, drive safe, Hope you had a great time.
*Be prepared for a fun and rewarding silent auction. We have generous donations from David Clark, Concorde, Lycoming, PLB from ACR-ARTEX, Gibson and Barnes Headset case, IN Fuel Transmitter, Rosen Sun visors, RAPCO Vacuum Pump, 50% off GAMI injectors, Gill, EI Atltitude Super Clock and more!!
Come prepared for some good bargains as initial bids with start 40-50% off list prices!!!!