Editor Comments
by Steve Whittenberger
Great month for Swift! Swifts all over the country are doing what Swifts do best…..fly and impress people with their great looks, performance and stature. Not to say that some of the flying wasn't a bit of a challenge….some rain, some smoke, some forest fires, restricted visibility but Swifters… being the intrepid and resourceful aviators that they are…..found a way to get `er done. We had good crowds at all three of the fly ins… Triple Tree…. Fredericksburg…. and Westover. Great fun, great camaraderie and some good old tire kickin and a bunch of flying. So what else do you have better to do? By the way, many thanks to Stan Price, Steve Roth, Ernie Hansen, Brian Vowell and Don Thompson for their timely inputs for some of the articles. It sure makes it easier for Pam and me to construct the newsletter. Well done!
Board Chairman Comments
by Will Roberson
After a long and difficult summer it was really great to finally get out to see some good Swift friends in California. Due to my schedule I had to fly commercial but it was a really fun to participate with all those left coasters. Yes the smoke in California was a bit challenging for those flying in but as usual our intrepid Swifters made it and the Westover fly in led and hosted by Dave Richards was outstanding. I will say that if you haven't made this trip… you need to put it on your "bucket list" for it is well worth the time, effort and expense whether you go in your Swift or fly airlines.

Where else in the world do you have the freedom to fly across a country without interference or close scrutiny by some governing agency. Enjoy this as long as you can … it is truly a gift that our freedom provides us.
Swift Brick Program. You will find later in the newsletter some information on the two-fold "Swift Brick Program". This is an important project headed up by Ernie Hansen and Gerry Hampton that will do several things for Swift. It will provide an opportunity to display your pride in your Swift, perhaps honor a departed loved one and your generous donation will go a long way to keeping Swift viable for the next 25-50 years. Please take the time to read the information carefully and then decide at what level you can participate. Remember… donations are tax deductible and thus it is a win-win situation for you, Swift and future generations of Swifters. There are two basic parts to this program: one is a donation to own part of Swift history by purchasing an authentic brick from the Globe Swift Factory to be displayed in Swift HQ with your name on it and the other is to participate through a replica brick program with your name engraved that will form a boundary around the original Globe flagpole that was erected in 1942 and now resides here at Swift Hq. Regardless of which (or both) you elect to participate in you will be leaving your footprints on Swift and contributing to the perpetuation of The Swift Museum Foundation, Inc.
Swift Fly-Ins. I want to thank all of you for participating so heavily this summer in all of our gatherings in Dayton, Triple Tree, Fredericksburg and Westover. We had a few challenges in getting to some but all in all we had really good turn outs everywhere. Let's face it … getting together with your Swift peers anywhere is a lot of fun and is very rewarding. I am encouraged by the show of enthusiasm and determination to keep our Swifts flying and also to enjoy our friends we have made over the years. Good show Swifters.
Swift Board Meeting and Work Session. There will be a gathering at McMinn airport in Athens Tennessee 14 and 15 November. The work session on Friday the 14th will focus on continued restoration of Swift #3 … Cleanup of the existing Museum …and moving parts to our new facility. Many of us will arrive on Thursday to be ready to go early Friday morning. So why not come on out and join us. You can pick your project to work on and these things can be rewarding and a lot of fun. If you have time you can stick around for the Board meeting on Saturday at Swift HQ or you may prefer to continue working on the projects indicated. We'd love to have you and the more people who come the more we will get done. You might want to bring some work gloves for working in the museum or moving parts … and we will let you know where everyone will be staying. If you think you might be able to help out just call in your name to Pam at HQ and we will keep you advised of the schedule, hotel etc. Many thanks for all you do.
The Future of Swift. Most of us like to believe that we still have a long future in front of us. And like any good organization… many are thinking of ways to make Swift better, keep our birds flying and ensure our Swifts go well into the future. We cannot stand pat and we must move forward and to that end we hope to develop a roadmap for our future that will keep Swift humming for many many years. After all, the Swift is too good an airplane and too much fun to fly to just sit in a hangar or museum. I know we all want this and we shall continue to pull out the stops to keep moving forward. As we develop ideas and programs we will keep you informed of our goals and progress. At the appropriate times we shall also encourage your ideas since the Swift Museum Foundation is YOUR organization and its purpose is to serve you. Stand by for developments. Go Swift!!!
Executive Director Comments
by Pam Nunley
It doesn't seem possible that we are approaching the wind up of another Swift filled year. Make your plans to attend the work session and Board meeting if at all possible. Give us a call for hotel information. We are enjoying a rise in visitors to the Museum which, in turn, increases the need for help in making it the best it can possibly be with the current condition of the building.
Another area needing attention is photographing many of our salvage parts. We want to begin running these photos of items that you have so generously donated. The sale of these items can and will continue to keep us in the black and provide parts and support to the membership. We still have a good stock of Adel struts on the shelf. However, when they are gone it may take a while to restock. So, if you think you may be in need of struts in the future, please consider giving yourself an early Christmas present!
Please take special note of our Fund Raising program later in this Newsletter. This is something I think all of you will want to participate in. We need your support and this is a great way to make it happen!
Help make our NEW MEMBERS welcome!
Frank Surfas — Placerville, CA
Don Abbott — Gallatin, TN
Roger Swenson, N 1600— N. Las Vegas, NV

Finance Report
by Sam Swift
After the Board meeting at Dayton, I was handed the Finance Committee reins by Ernie Hansen our outgoing Finance Chairman. Ernie has done a tremendous job with finance and I intend to keep up the good work. I do have a background as an accountant so despite my busy schedule I believe I can do the job justice. We know that some members have wanted a little more information on our finances and we will provide a synopsis of that in next month's newsletter. Then, next year at Swift National I shall present a full report at the membership meeting. As you review the numbers you will see that Pam has a tremendous job to do day to day in keeping the accounts straight, accounting for your dues and donations and then keeping the funds flowing in the right direction. This is not an easy task when you are short of funds. We have much work to do to raise our revenues and we all must help promote the Swift Foundation and maximize our exposure. Our expenses are largely minimized to the greatest extent possible so every extra dollar certainly helps. The report will show how we did in 2013 and then compare it to how we are doing this year to date. Many thanks for all your support.
Swift National Fly-in and Convention 2015
Swift National will be held next year at Bowling Green, Ky. The time will most likely be the first week in June so mark your calendars and be ready for a really great time in the Bluegrass state. Jerry Kirby will head up the operation and will be ably assisted by the Tennessee Volunteers with support from the SSAG. Featured will be a hangar much like this years at Dayton with the Corvette museum, Mammoth Cave and the Bourbon Trail nearby. Stay tuned and be ready to come to Kentucky. For nostalgia we might even stage a fly by at Kentucky Dam. See you there.
Triple Tree
Last year there were over 800 aircraft at TT but this year due to the weather the crowd was down a bit. The nice thing about TT is that they just keep improving each year. Thursday is usually cook your own steak night and previously there were long lines. This year they quadrupled the amount of grills and the problem was alleviated. We had our own parking row as usual and all in all a good turnout despite a few clouds and a little rain. Carl Vowell had a nice little camp set up and many of us enjoyed a good lunch at Camp Vowell. Dave Barker brought his award winning Swift and this year set up a nice shady area beside his Swift that was generally heavily populated as that old South Carolina sun was beating down a bit. Once again we had a terrific weekend at Triple Tree, perhaps the finest grass strip in America. Around 10-12 Swifts came in and out and several other Swifters came in by car. The Pavilion was well populated as we had a nice breeze plus the shade which made it very comfortable. This Swift gathering is a little different in that we are just a small part of the overall activities… however, we are always well treated and the venue is without peer anywhere. It is fun to see all the different aircraft … a lot of taildraggers…..a C-46….a P-5 Howard … and on and on. Just a lot of aviators having a good time. (For more information go to ….tripletreeaerodrome.com.)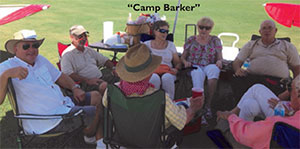 The camping is really unusual in that around the edge of the field are a lot of trees that have been carved out to provide parking slots for your aircraft. Really neat. The facilities are first class and very clean … so all in all a great place to visit for a couple of days.
This year they instituted new arrival procedures to accommodate the traffic and it worked very well. It was set up much like Sun-n-Fun or Oshkosh and the controller was stationed in the WW II tower that has been installed on the field. Same sort of procedures and with this much smaller crowd easy to control. Well done. This is just a fun venue and if you haven't tried it … put it on your bucket list for next September… first weekend after Labor Day.
Red River Swift Wing at Fredericksburg, TX
by Stan Price
Our 2014 RRSW Fall Gathering was again held in Fredericksburg, Texas. Our HQ was the fantastic Hangar Hotel which is located on the flight line of the Fredericksburg Airport.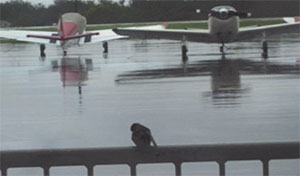 The weather was an issue this year and some of us came in a day early to avoid a front that was due to be coming through the Dallas area on Thursday. Being at Fredericksburg a day early gave me the chance to spend most of Thursday at the Pacific War Museum in downtown Fredericksburg. This is a great museum if you haven't had the opportunity to visit. Our Wednesday and Thursday evening meals were held at the Cabernet Grill …which was formerly an old cotton gin.
Friday's activities included a fly out to San Marcus TX and a visit to their CAF museum along with lunch at the FBO. We returned to Fredericksburg just as the weather began to change. Cool temperatures and a drizzle would keep us inside and also keep at least one bird grounded. The Officer's Club was the social gathering spot for the gang on Saturday and we still had a great time. The ladies went shopping in Fredericksburg and no one seemed to get bored. The weather did keep a number of RRSW members from flying in and we missed our Saturday arrival group. Terry Gillaspie was doing what she always does… volunteer and keep things moving by driving the van and managing the Shopping Adventure. My kind of "git 'er done" gal!.. Longest distance award went to Steve Roth and Lynn Dawson and viewer's choice to Bud and Sylvia Brown. A RRSW Service Award also went to Stan Price and was awarded by Steve and Barb Wilson.
All in all we had a great time and the Wilson's have invited us back to Pecan Plantation for our 2015 event.
Tentative time will be late October so start making your plans now. Until next year … Fly Safe!!!
2014 West Coast Swift Fly-in
by Don Thomson
It took more than forest fires, fire-gutted towns (Weed, CA), aerial tankers and thick smoke to keep 25 Swifts from landing at the Jackson County (Westover Field) airport in California on the weekend of September 19th through 21st This year marked the 29th or 30th annual West Coast national Swift Fly-in (depending on whether you count the national disaster of 09/11/2001 – which cancelled the event).
To say that getting to the event was difficult might be the biggest understatement of the entire weekend. Depending upon the direction from which you arrived, you were forced to navigate around a valley full of smoke near the California-Oregon border ..and even more smoke from a huge fire near Highway 50 northeast of Westover Field. The result was that the 450 mile long San Joaquin Valley was filled with smoke and haze that made for beautiful orange sunsets but difficult flying. Just having ground contact was something to brag about. Fortunately, most of us were either IFR current or were able to muster the skills necessary to get there on the "steam gauges" (supplemented by hand held or panel mounted GPS systems). Since the San Joaquin Valley averages about 45 miles wide..it resulted in over 27,000 square miles of MVFR. OK … nuff said about the weather.
Dave Richards was our host this year and he had the registration table set up early to welcome the Thursday arrivals. The ramp was almost filled when I arrived late Friday afternoon on the wing of Doogie Robison and Tom Numelin. We hurried to the motel for a quick check-in and then back to the airport. We had a wonderful catered meal of BBQ brisket, chicken, baked beans, green salad and garlic bread. A local service group provided a bar and two delightful bartenders for the evening. The temps were mild … but I did notice a few watery eyes and some coughing from the smoke. Everyone chatted and visited well into the night. Obviously some really had a great time…
Saturday morning brought somewhat cleaner air and several Swifts departed early for a fly out breakfast to the Lodi airport. Their breakfast flight took them over the beautiful Comanche Reservoir to the Lodi Airport … some 40 miles from Jackson. The airport restaurant boasts new management on their website and they have a motto that I'm not quite sure how to interpret… "Where good pilots land and brave pilots eat"…. Really. I took this from their website. I didn't hear any bad reviews so I'm guessing everyone make it out okay!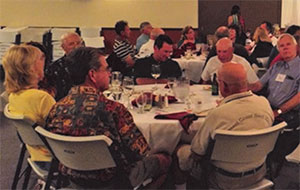 The ramp was full of folks kicking tires, wiping soot from their wings and judging aircraft for the awards to be given at the banquet.
I'm guessing 75-85 people arrived at Thomi's banquet room on Saturday evening. Once again, we were treated to a wonderful meal of pork loin, chicken, green beans, salad and apple cobbler for dessert. We are beginning to see more Swifters arriving at Westover in vehicles than in the past … but..given the age of our group it is understandable.
Janie Nelson called Denis Arbeau to the stage. She recalled a story about a painting of a Swift Charlie had kept on his wall for many years. The Swift was Denis'. She wanted Denis to have the painting and Denis graciously accepted it and told the crowd how much he'd enjoy having it for awhile but then referred to himself as only the caretaker. Denis promised to return it to the Swift Museum when the time was right … that way the painting will be there for all to enjoy. That was a class act Denis!

Dave Richards and Gerry Hampton gave out the awards for the event. Best custom went to Kyle Hook of Petaluma, CA….Best original went to Tom Numelin of Fairfax, CA….The Bud Knox award went to Hal Cope of Spring, TX… the "tired butt" award went to Bill Jennings of Dalton, GA (17 hours in the Swift). The crooked raffle was conducted with a number of nice (donated) gifts taken home. The hospitality room went strong into the evening with lots of visiting and stories being told.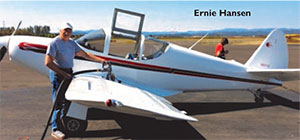 Departure times on Sunday were determined by how far you had to fly and how much smoke remained on your course of travel. I departed with Ernie Hansen (with passenger Dot Shepherd), Doc Mahoney and Nate Andrews. We hit some rain, smoke, haze and yuck for about 65 miles before finally breaking out when we stopped in Medford, OR for fuel. Two DC-6 tankers departed in front of us fully loaded with retardant and headed to yet another fire. It was nice having the Diamond Pointers on my wing for awhile as we negotiated our way home. There's always safety in numbers.
Dave Richards has "volunteered" to do it again next year so be sure to follow the announcements in the Swift Web page and the Swift Newsletter. Fly Safe. DT
Santa Fe
by SJW (With help from Steve, Dave and Bud)
You meet the most interesting people as you venture forth in your Swift. After RRSW at Fredericksburg, TX Steve Roth and Lynn Dawson, Dave and Debbie Carpenter and Bud and Sylvia Brown just kept going west to Santa Fe. There to meet them was old friend and Swifter Bill (Squirrel… Ranger Bill) Harris. They had a great time there as usual with Bill and then ventured forth to Durango, CO and back through Kansas City, MO. Bill is a former Board Member, activist and live wire for Swifters all over the country. So how did he get the name "Squirrel"? Seems a group of Swifters usually headed west to Westover each year and Bill would host them in Santa Fe and then the group would go to the West Coast together with Bill in the lead. On one of their trips they decided they would find the Indian Ruins at Chaco Canyon and of course Bill knew where it was … kinda. As the flight of 4 or 5 would cross a ridge Bill would declare that it was right near here … this went on for several ridges until… Eureka … they found it. To which Charlie Nelson quietly commented on the radio…"even a blind squirrel can find an acorn occasionally." Bill Harris then came "Squirrel" Harris.
On another exploration, Bill took a Swift group to the Indian ruins at Bandelier National Monument near Santa Fe. Bill is truly an expert in New Mexico and western history and very interesting to listen to. On this particular occasion Bill was dressed in Khaki trousers and shirt and was explaining the history of Bandelier to the Swift group… which was followed closely by two ladies who were most interested in Bill's narrative. The ladies got to discussing a point about the Ruins and one was overheard saying to the other…."Well … I know I'm right because the "Ranger" just explained it to that group nearby." Ergo Squirrel Harris is now also "Ranger Bill" Harris. And so it goes. Incidentally, Bill Harris was the inspiration to get Swift to Dayton in the mid 2000s abetted by Bill Kientz. SSAG just continued their plan!… Small world.
SWIFT MUSEUM FOUNDATION FUND RAISING PROGRAM
We have developed two Brick fund raising programs and invite all Swifters to participate! Both programs will provide for a lasting commemorative for you and/or someone special to you. You can designate where you would like your donation for these bricks to be used. We have four funds to choose from, the Endowment Fund (to generate funds for the long term needs of the organization), Operating Fund (for immediate, day to day operations), the Building Fund (to complete the new facilities in Athens, TN) or the Parts Fund (for continued availability of Swift parts). Donations can be split into the different categories, if desired. What a great way to help your organization!!
The first program is the Factory Brick Program. This program will consist of 150 bricks. These bricks are from the original Globe Factory in Saginaw, TX. Swift has awarded one brick to our President Emeritus, Charlie Nelson and will offer for sale the remaining 149 bricks. All bricks will be displayed on the inside wall of the Swift Parts/Administration building with a history of the Globe Factory, illustrating the significance of these historical bricks. Historical pictures will complement this wall display. After purchase of a brick, an engraved plate will be affixed to the brick with up to three lines of text. Once these bricks are sold no more will ever be available. Donation for these rare, limited bricks are $ 1,000.00 each. A brochure and order form are enclosed. Buy a piece of Swift history now! (NOTE: 17 of these bricks have been SOLD!!)
The second program is a Replica Brick Program. The Replica program will initially consist of 216-8×8 bricks, OR 432- 4×8 bricks OR a combination of the two sizes. This amount of bricks will cover a 10′ x 10′ area. These bricks will be new, laser engraved bricks from Brick Markers USA of West Palm Beach, FL. The bricks will be part of a display around the factory flagpole located on the outside of the Parts/Administration building. The flagpole will be sited, an "Array" comprised of the Swift Logo 24″x 24″ in size will be installed in front of the flagpole. YOUR bricks will be installed on the sides, and in front of the Array. They will be laser engraved with the information provided by you on the order form. Laser engraving provides a virtually indestructible finish to the brick. Donation amounts for these bricks are $150.00 ea. for a 4×8 brick and $300.00 ea. for an 8×8 brick. An order form is included with this newsletter.
Remember Swift is a 501(c)(3) organization and your donations are tax deductible! Help yourself and the Swift Museum Foundation as the end of the year approaches!!
Please reference the attached order forms.
Download the Factory Brick Program Form  
Download the Replica Brick Program Form
Hog Jowl Fly In
Yep you read it right….Hog Jowl. If you still have a bit of energy left or if you haven't been able to go to some of the other fly ins this summer… consider Hog Jowl. (That name is a hoot!). John Carroll and Jay McClure are the owners of Hog Jowl Airfield (GE11) in northwest Georgia and are hosting a fly-in October 23 – 26. In the past they have had a lot of taildraggers and a bunch of Cessna 195s but they would like to dress up the place with Swifts other than their own. There is good camping and leaves should be at their peak in the hills near Lookout Mountain. If you have questions you can contact John at jcarrolljr@bellsouth.net. This is a grass roots fly in and their strip is grass… hey that kinds fits doesn't it? No gas on the field so fill up before you go. Why not give it a try?
FLY IN/OPEN HOUSE-5th Annual Fly In/Open House will be held at Berg Park Aerodrome (9GA2) on Saturday, November 1, 2014.- ADDRESS: 580 Old Gress Island Road, Midway, Ga. Arts/Crafts, Cars, Motorcycles. For detailed information call Steve Berg @ 912-884-8666.

A beautiful sunrise shot of Don Thomson's Swift N80971 at Westover 2014