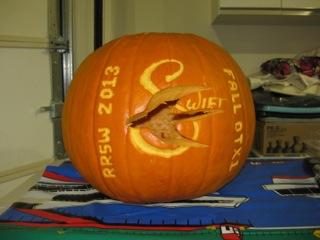 Steve and Barb Wilson were our hosts this year for our fall RRSW gathering which they hosted at Pecan Plantation near Granbury, Texas. Pecan Plantation is a southern style Airpark/Country Club facility and is essentially a resort. The clubhouse, which is designed as a southern mansion, was our base of operations. It is not only the clubhouse for the golf course, but has two floors of hotel rooms which the Swifters filled. There are several eating facilities within this building, a library, two bars, and a balcony for enjoying the scenic location. What a great place.
Thursday for our planned arrival day but due to the strong cross winds and a frontal system which was producing rain, only a few locals made it in on Thursday. Friday was the big day with arrivals flying in from the Carolinas, Florida, Virginia, Kentucky, Louisiana, and Oklahoma. Many others came via commercial flights and the party was "On".
Friday morning started with breakfast at the club, formation flying, subway sandwiches at the flight line for lunch, and lots of fellowship. Barb has set up the event with great thought. Most of the Swifters stayed at the Country Club Hotel, but since we had it completely filled she had made arrangements with neighbors to let our members enjoy their houses for "free" lodging. What a great community of aviation oriented people.
A couple of the Swifts had some maintenance issues and it was fun to watch the talented and knowlegable Swift mechanics , along with Steve's parts, conquer the problems.
The ladies disappeared on a shopping mission and returned with big bags and lots of smiles. I'm not sure what goes on during these resupply sorties but they sure have fun.
Friday evening was a hangar party which the Wilson's hosted in their hangar. Not only were the fifty or sixty RRSW member there but also about 75 of the Wilson's neighbors. The meal was a pot luck extravaganza with the neighborhood providing fantastic home cooked food to all of us RRSW guests. What a great group of aviation neighbors.
Saturday was another great day with formation flying in the morning, a short fly out in the afternoon, more formation flying, and more shopping for the ladies. Steve took a group to tour to a local Brewery for those who chose to get some non-airport time. The ladies, again, took the cars with the largest trunks and headed for the local antique stores. I'm glad our airplanes are space limited or the guys would have been transporting huge artifacts back to their home bases. Again the ladies returned with large bags, big smiles, and lots of laughter.
The formation training yielded Pick Freeman receiving his wingman card and Dave Anderson receiving his Flight lead credentials. Ben Wilson got a lot of formation stick time and will be ready for his card shortly.
We were happy and honored to have Mark and Marilyn join us. Mark is doing great.
Our Saturday banquet was held in the Wilson's hangar and was a great success. Barb had catered barbeque and the food was excellent. Our awards were given out with the longest distance award being given to Steve and Lynn Roth, Viewers Choice to Wade and Terri Gillaspie, and Viewer's Choice Runner Up to Perry and Carolyn Sisson. Steve and Barb Wilson were presented the President's Award for their outstanding contributions to the RRSW. Steve Roth was taking pictures and posting on Facebook during the entire eventing so many of you who could not attend were able to enjoy the event vicariously via Steve. Thanks Steve.
We are looking at the possibilities of going back to Fredericksburg for our 2014 RRSW gathering and more details will come out as Ed does some reconnaissance with the new event coordinator at the Hangar Hotel. More information will follow as the plan comes together.
It was a great weekend with a great group of people. Thanks for being a part of the 2013 RRSW Fall Gathering. It's like a family.
Stan Price