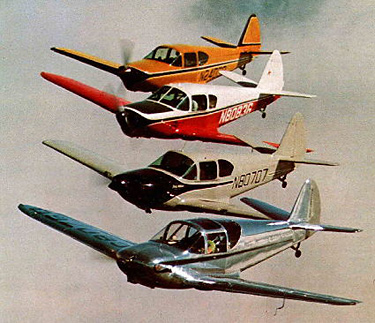 The Swift Formation Committee (SFC) was formed in 1999 when several Swift Museum Foundation members came together to formalize the formation flying of the organization. The Museum board of directors established a committee to create and manage a formation training program based on the Formation And Safety Training  (F.A.S.T.) program for WarBirds. In 2002, SFC became the first general aviation formation training program recognized by the FAA for approved formation flight in wavered airspace.
In 2007, SFC was accepted as a signatory to the F.A.S.T. organization and now has two seats on the F.A.S.T. Board of Directors.
The primary goal of SFC is HAVE FUN and BE SAFE flying formation!
Mission Statement
The mission of SFC is to
encourage and enforce…
Safety

Standardization

Proficiency
…in formation flying
in its members

| | | |
| --- | --- | --- |
| | Membership | |
Membership in SFC is open to any pilot who is a member of the Swift Museum Foundation. Questions can be addressed by the SFC Safety/check pilot(s) in your region or contacting the chairman, Michael Kennedy at smat3@aol.com 615 453-9350. SFC manuals are available at Swift Museum Foundation and the F.A.S.T. national formation manual is available on line at www.flyfast.org publications page. SFC membership is in addition to Swift Museum Foundation membership and is valid Jan 1 – Dec 31.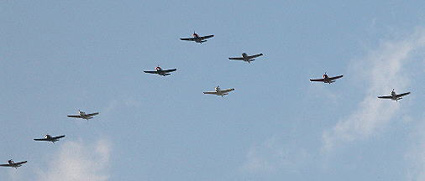 To join SFC contact: 
The Swift Museum Foundation
Attn: Swift Formation Committee
PO Box 644
Athens, TN 37371-0644
423-745-9547
fax 423-745-9869 
swiftlypam@aol.com
| | | |
| --- | --- | --- |
| | Training | |
| | |
| --- | --- |
| | Formation flying is a specialized pilot skill developed soon after the birth of powered flight to coordinate the movements of more than one aircraft at a time during flight. |
| | Through out each year, SFC strives to hold training clinics regionally. This training starts with a mandatory ground school and successfully completed written test. |
| | Flight training progresses at the skill level and pace of the individual pilot in their own aircraft. |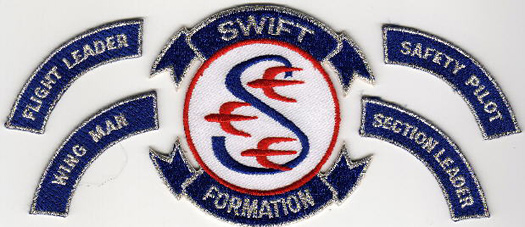 Ratings are awarded on the demonstrated skill level during check
flights for each of the qualifications
Wing man, Section Leader (2-ship), Flight Leader 
Currency in formation flight must be maintained by flying formation on an annual basis.
Swift Formation Safety/Check Pilots
| | | |
| --- | --- | --- |
| USA - California | Hampton, Gerry | email |
| USA - Tennessee | Kennedy, Michael | email |
| USA - Washington | Mahoney, Gerry | email |
| USA - Massachusetts | Mercandetti, Paul | email |
| USA - Tennessee | Mercandetti, Sandy | email |
| USA - Texas | Price, Stan | email |
| USA - California | Stein, Bill | email |
| USA - Georgia | Whittenberger, Steve | email |