WEST COAST SWIFT WING
AUGUST 2016
EDITOR: CAROL & GERRY HAMPTON AV8RGNH@SBCGLOBAL.NET 530-676-7755
We are half way through our major Swift Fly-ins—Swift National and Cottage Grove tucked in bed, and West Coast Swift National at Westover Field, Jackson CA next followed by The RRSW fly-in at Pecan Plantation.
Legend of Flight Nut Tree Airport (VCB)
There will be a pancake breakfast with donation going to the Legend of
Flight Museum on the fourth Saturday of the month from April thru October. This would be a great place for a monthly gathering of Swifts. So, let's meet at the Nut Tree Airport Saturday, Aug 27 at 0930.
Westover 2016 Sept 23-25
Carol and Gerry Hampton are well into planning for the West Coast Swift National at Westover Field, JAQ, Jackson, CA. The fly-in hotel is again the Best Western Amador Inn, 209-223-0211. We have a block of 40 rooms reserved. Call and tell them you are with the Swift group. Room rate is $85 a night which expires on 31 August. They will provide van transportation again this year.
We have a change in plans this year. We are going to have 2 nights in the hangar. First night will be a BBQ. We will have an open bar. The theme this year is "Repeal of Prohibition", we will be serving "prohibition era" drinks at the bar, and will be judging "best prohibition era (1920s & 30s) outfits, both male and female. Saturday night will be a Prime Rib dinner with all the fixings.
We are planning on wine tasting on Saturday and will have a formation school if there is a demand.
Saturday will also be a day to remember and celebrate Jeannie Collins. Please bring and wear one of her shirts from a past Westover/Sutter Creek National Fly-in. That night we will have pictures of Jeannie and an opportunity for all to speak about your experience with her.
Lunches on Friday and Saturday will be "on the lawn" at the airport, hosted by the local EAA chapter.
Red River Swift Wing Gathering Sep 29-Oct 2
The RRSW fall fly-in is at Pecan Plantation, 0TX1, early bird arrivals on Thursday, 29 Sep, and fly-in 30 Sep to 2 Oct. Contact Steve/Barb Wilson at 817-578-9878. For rooms at the clubhouse, call 817-573-2641.
Here is the list of fly-ins for RRSW this year. 
Aug 20
Brenham TX (11R)
Sep 23-25
West Coast Swift Nationals, Westover, CA (KJAQ)
Sep 29-Oct 2
RRSW Fall Gathering, Pecan Plantation, TX (0TX1)
Oct 29
Chigger Field TX
Nov 12
Hilltop Lakes TX
From David Murray/Brant Seghetti:
The Nut Tree Air Fair is October 15th from 10AM to 4PM, and we are working hard to gather an impressive collection of Classic, Vintage, and Warbird aircraft to KVCB.
We would love it if you and your Swift flying friends would be willing to come down for the event. No fly in is complete without these gorgeous airplanes, I hope everyone can make the event as it should be a great way to wind down the summer.
We are looking to lock up our confirmed participants over the next few weeks. Please note we are looking to get a variety of airplanes to the event, so if you have another classic you would like to bring please let us know and we will save you a parking space.
Karl Johansson's Memorable Flight
A few weeks ago I had the good fortune of connecting (thank you Steve Roth) with a very interesting and direct descendent of someone near and dear to the hearts of the Swift community. David Ellis had contacted the Swift Museum through our website hoping to find someone who might be able to give his wife a ride in a Swift as a special birthday present.
The Ellis' live here in Southern California. When Steve Roth reached out to the SoCal Swifters, I was only too happy to volunteer to assist David on this extra special occasion. The person celebrating her birthday was none other than Elaine (Knox) Ellis! You probably have figured out that Elaine is Bud Knox's daughter! Imagine my surprise when I discovered that Elaine had never flown in her father's creation and her birthday wish to her husband was a flight in a Swift! We agreed to meet at Palomar airport, just north of San Diego, for lunch and a coastal flight to demonstrate the fine flight characteristics of the Swift.
Palomar is on the coast and thus susceptible to San Diego's typical summer marine layer but for today's flight it stayed off the coast until we were a few miles to the south. This only made the flight more interesting as we flew low along the beach down to Del Mar and La Jolla. On our return to Palomar we lingered off the coast under clear blue skies . With Elaine at the controls, we did several turns; initially a couple of 180s followed by 360 turns which she executed very well, even holding altitude within 200'. I was impressed! She was a natural (must be in the genes)! What a great opportunity to for her to enjoy first-hand the fine flying characteristics of the plane her father designed and which continues to delight its owners 70 years later.
Elaine brought pictures of Bud at trade shows wearing his signature cowboy hat, where he, for many years, was the executive VP at Weston Hydraulics. I am attaching a photo of a newspaper article from the first days of the Swift in early 1946 (my guess, there was no date on the article). Elaine's sister still resides up in the Simi Valley area (just north of LA) where the family moved in the 1950s. Elaine is aware of the successful expansion of the Swift Museum Headquarters and our interest in retaining and preserving all things Swift, there the museum for all to enjoy.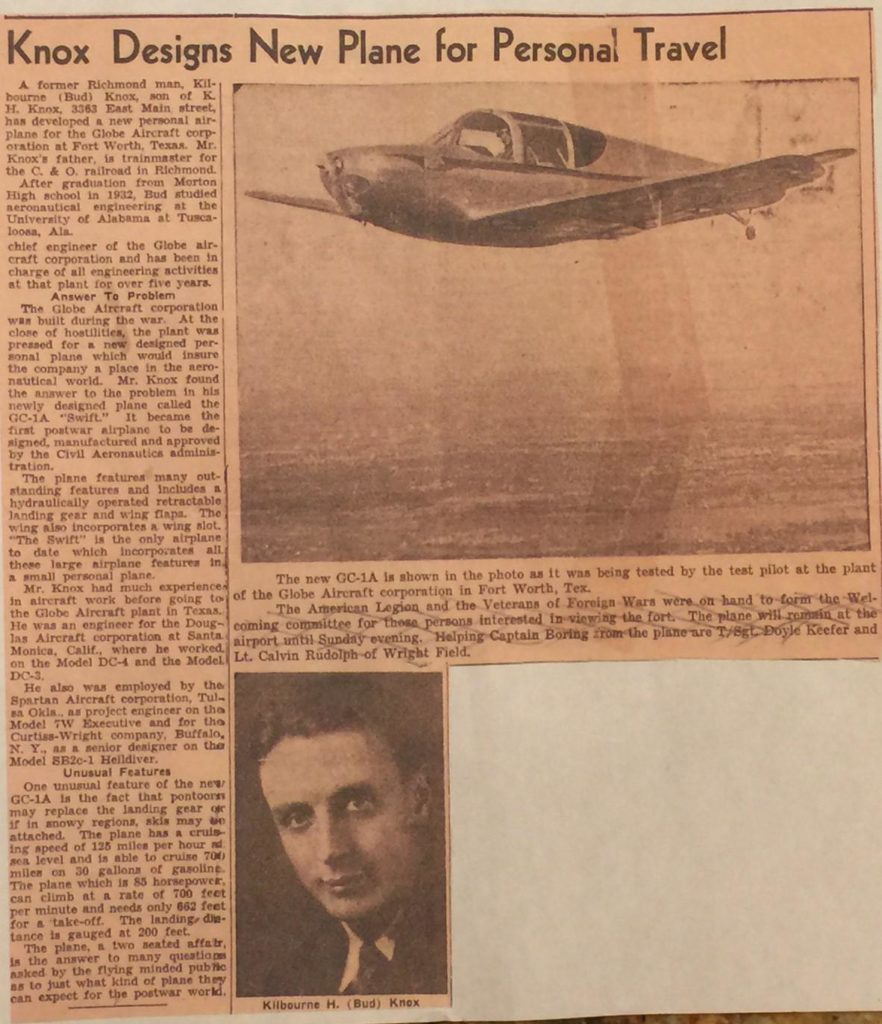 So glad we had a chance to deliver a birthday present and were very honored to meet David and her the "Swift and her three sisters Louise, Sandy and Liz to join us at Jackson, CA in September for the West Coast Swift Reunion to meet many more happy Swifters and participate in the kind of comradery that exists in our tight knit community.
As a side note, if any of our readers are interested in acquiring a one of kind, amazing hand crafted knife (all sizes and types), please take a look at David's website, exquisiteknives.com.
Contributed by Karl Johansson.
2016 WCSW SWIFT FLY INS
Sep 23-25 Westover Field, CA West Coast Swift National
2016 OTHER FLY INS/AIR SHOWS
Aug 20-21 Camarillo Camarillo Air Show
Sept 2-3 Watsonville Wings over Watsonville
Sept 14-18 Stead Field Reno Air Races
Oct 1-2 Mather Airport Capital City Airshow
Oct 1 Livermore Airport Open House and Air Show
Oct 8 Auburn Airport Auburn Air Fair
Oct 14-16 Minter Airport Madness over Minter
Oct 15 Marysville Golden West EAA fly-in
Oct 15 Nut Tree Airport Nut Tree Air Fair
The above information is accurate as far as we know it, if we receive
notification of changes to date, time, locations, etc. we will update you.
The ANNUAL DUES for 2016 for a newsletter sent by e-mail is $5.00 and you must provide us an email address.
****IF your annual dues are up for renewal, please send your check to Gerry Hampton, 3195 Bonanza Dr, Cameron Park, Ca 95682. Make the check out to Gerry or Carol Hampton, WCSW. If you have already renewed, please disregard this notice. HOWEVER, all correspondence should be sent to Gerry Hampton either at the home address or to the e mail shown on page 1 of this newsletter.****
Happy Skies
Carol & Gerry Hampton 