WEST COAST SWIFT WING
JUNE 2016
EDITOR: CAROL & GERRY HAMPTON AV8RGNH@SBCGLOBAL.NET 530-676-7755
We are a quarter of the way through our major Swift Fly-ins—Swift National over with, Cottage Grove for the Northwest Swifters next.
Pancake Breakfast Nut Tree
NorCal Swifters met at Nut Tree Airport on 28 May for their pancake breakfast that supports the Flying Legend Museum there. Swifters that made it there were: Denis Arbeau, Kyle Hook, Gerry Hampton, and Bill Gass.
From the SMF Newsletter June 2016:
In Loving Memory Jeanie Collins
1930 – 2016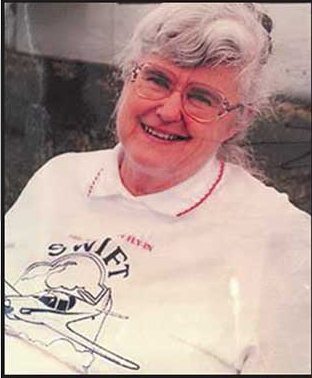 As many of you may have heard by this time…Jeanie Collins…one of our most loyal and beloved members passed away near her home in Portola Valley, California. Jeanie was a friend to all and a stranger to none who ever crossed her path. She and husband Dick Collins have covered just about every square inch of the USA in their Swift N 80772 over the years including innumerable trips to Swift National and many excursions to Alaska, Oshkosh and elsewhere.
Jeanie looked skyward early in her life and as a child built model airplanes rather than play with dolls like other small girls. At 10 years of age she kept a small book of flying lessons next to her bed and after several readings had it memorized. Finally, at age 14 she was deemed old enough for flying lessons and her aviation career began with flying lessons in 1945 at Weeks Field in Coeur d'Alene, Idaho. She soloed in a Piper J-5 Cub Cruiser after 9 hours and 25 minutes of dual time. Although Jeanie was a skilled horseman, seamstress, and good student she knew her immediate passion was flying and she got her private license in August 1947. At that point she had never landed on a paved runway and would not until the family moved to the Palo Alto area of California.
Jeanie finished high school and enrolled in the aeronautics division of the College of the Pacific and finished her freshman year there before the flying bug really got to her. She and fellow co-ed Beverly Wilson entered the 1949 Jacqueline Cochran AWTAR race flying a Cessna 140. They were sponsored by Stockton Executive Air Service for the race which started at Lindbergh Field in San Diego, CA and ended at Amelia Earhart Field in Miami, FL. Jeanie and Beverly were the only college students in the race and Jeanie was also the youngest at only 18. They hop scotched all the way from coast to coast at the scheduled stops and in general had a great time plus it was a tremendous learning experience. They finished 11th out of 27 and averaged 96.5 mph for the trip.
After return from the race Jeanie started working for the Nystrom Aviation FBO at the Palo Alto airport. Nystrom was the distributor for Navion in Northern California and she gained tremendous experience in ferrying Navions around the state and once she got her commercial license she was allowed to fly customer's aircraft plus fly charter for Nystrom. While there she joined the "99s" and more importantly met her soulmate for life…Dick Collins. Jeanie also flew engine break-in sorties for the Navions and on 3 occasions had to "dead stick" the birds back to terra firma.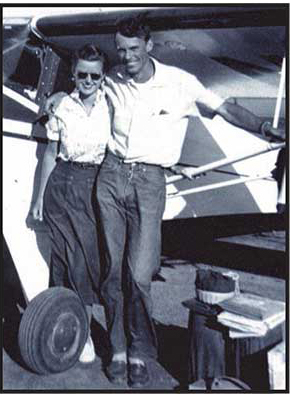 Dick and Jeanie got married while Dick was working as an engineer for Hiller Helicopter. Along the way they rebuilt a Taylorcraft and flew if for a couple of years and then got the itch to try something more challenging….the choice was between a derelict Navion or a derelict Swift. The Swift… N 89772… won and in 1966 they completed the refurbishment by adding a Lycoming 180 hp vs the 85 hp. N 89772 is still in the family though Dick does not fly it anymore. Being the total aviator that he is Dick requested good friend Gerry Mahoney take it and fly it to keep it current. Today N89772 resides at Diamond Point.
Along the way Jeanie became a talented draftsman and designer and was the head of Kaar Engineering Corporation's drafting department. Dick and Jeanie were early members of the International Swift Association which later became the Swift Museum Foundation, Inc. We use the term Swifters a lot in referring to Swift members and it was Dick and Jeanie that coined that phrase as they were always referring to themselves as "Swifters". She did a lot of work on the Swift Maintenance Manual by creating schematics and drawings and also found time to engage in her love of quilting and designing silk screens for the West Coast Swift Wing.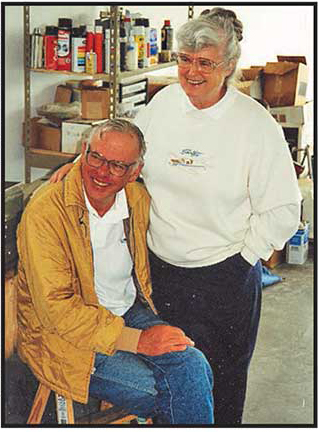 Throughout her life…Jeanie never lost her passion for flying and was especially close to those in the Swift organization. It was she and Dick's life and they reveled in it… even in later years when it became more of a challenge to get to Swift National they never failed in their quest to rendezvous with their old friends. Jeanie in her last few years was afflicted with Parkinson's disease but she faced that challenge with courage, humor and passion. Her favorite thought was of her friends …"Friends are the most wonderful thing in the world". We will all miss this wonderful lady and are blessed to have known her.
Westover 2016 Sept 23-25
Carol and Gerry Hampton are well into planning for the West Coast Swift National at Westover Field, JAQ, Jackson, CA. The fly-in hotel is again the Best Western Amador Inn, 209-223-0211. We have a block of 40 rooms reserved. Call and tell them you are with the Swift group. Room rate is $85 a night. They will provide van transportation again this year.
We have a change in plans this year. We are going to have 2 nights in the hangar. First night will be a BBQ as in the past; Saturday night will be Prime Rib dinner with all the fixings. We will still have an open bar. The theme this year is "Repeal of Prohibition", more details to follow.
We are planning on wine tasting again and will have a formation school if there is a demand.
Saturday will also be a day to remember and celebrate Jeannie Collins. Please bring and wear one of her shirts from a past Westover/Sutter Creek National Fly-in. That night we will have pictures of Jeannie's memorial and an opportunity for all to speak about her.
Swift National 2016 June 8-12 Athens, TN
Swift National 2016 was a rousing success. 56 Swifts flying in—6 in the museum for a total of 62 Swifts/Buckaroos on the field. The Swift raffle was won by none other than our own Karl Johanson—congrats to him. Paul Barnett reportedly flew in excess of 70 rides to other Swifters in his Buckaroo to commemorate the 70th anniversary of the Swift. A very cool endeavor—way to go Paul!
The raffle sales satisfied all of the prize costs and administration of the raffle, and also enabled SMF to pay off the new facility.
The new facility is very nice—exceeding expectations on the level of finish and the tasteful display of our "artifacts". The parts department is well laid out and organized and thoroughly inventoried. The used parts are currently being inventoried and organized.
See the National newsletter for July for comprehensive coverage of the fly-in.
Northwest Swift Fly-in Cottage Grove, OR July 15-17
Kent Koester is again hosting this most fun fly-in. The Village Green Resort is the fly-in hotel. The remodeling has been accomplished. Contact them at (541) 942-2491 and say you are with the Swift group. $99 standard; $119 deluxe. There are still some rooms at this price—call and get your reservation.
Update from Kent:
We have early bird reservations from Washington to Arizona and California.
Mahoney has volunteered to come down early to help out plus looks like 1 maybe 2 more Diamond Pointers will join him.
Schedule outline:
Friday July 15: Early bird arrivals, dinner at Village Green, late night movie at the museum.
Saturday July 16: Joint exhibition of Swifts with the local aviation museum; Traci will bring out her hot dog/ice cream/etc concession truck; request each Swift to bring a photo/write-up of a most memorable flight for their prop card; dinner BBQ at the museum; entertainment; retire to Village Green lounge. Bohemia Days fly by at 10 am; and a repeat of the local "fly-around"
Sunday July 17:
Departures/good-byes
Dinner for the late birds
Kent is working on some special entertainment performed by local teenage musicians, but too early to promise anything, young Dalton and a friend have offered to lead a kayak excursion, and the Village Green has offered to customize their Saturday night music for the Swifters, so we have several options depending on what Swifters prefer (I welcome feed-back).
Red River Swift Wing Gathering Sep 29-Oct 2
The RRSW fall fly-in is at Pecan Plantation, 0TX1, early bird arrivals on Thursday, 29 Sep, and fly-in 30 Sep to 2 Oct. Contact Steve/Barb Wilson at 817-578-9878. For rooms at the clubhouse, call 817-573-2641.
Here is the list of fly-ins for RRSW this year.
Jul 25-31
EAA Airventure, Oshkosh, WI (KOSH)
Aug 20
Brenham TX (11R)
Sep 23-25
West Coast Swift Nationals, Westover, CA (KJAQ)
Sep 29-Oct 2
RRSW Fall Gathering, Pecan Plantation, TX (0TX1)
Oct 29
Chigger Field TX
Nov 12
Hilltop Lakes TX
Legend of Flight Nut Tree Airport (VCB)
There will be a pancake breakfast with donation going to the Legend of Flight Museum on the fourth Saturday of the month from April thru October. This would be a great place for a monthly gathering of Swifts. Mark your calendars.
2016 WCSW SWIFT FLY INS
Jul 15-17 Cottage Grove, OR Northwest Swift Fly-in
Sep 23-25 Westover Field, CA West Coast Swift National
2016 OTHER FLY INS/AIR SHOWS
Jul 7-9 Arlington Airport Arlington EAA, WA
Jul 9 Truckee Tahoe Air Fair & Family Fest
Jul 25-31 Oshkosh, WI EAA Air Venture
Aug 20-21 Camarillo  – Camarillo Air Show
Sept 2-3 Watsonville – Wings over Watsonville
Sept 14-18 Stead Field –  Reno Air Races
Oct 1-2 Mather Airport  – Capital City Airshow
Oct 1 Livermore Airport Open House and Air Show
Oct 8 Auburn Airport – Auburn Air Fair
Oct 14-16 Minter Airport  – Madness over Minter
Oct 15 Marysville  – Golden West EAA fly-in
Oct 15 Nut Tree Airport  – Nut Tree Air Fair
The above information is accurate as far as we know it, if we receive notification of changes to date, time, locations, etc. we will update you.
The ANNUAL DUES for 2016 for a newsletter sent by e-mail is $5.00 and you must provide us an email address.
****IF your annual dues are up for renewal, please send your check to Gerry Hampton, 3195 Bonanza Dr, Cameron Park, Ca 95682. Make the check out to Gerry or Carol Hampton, WCSW. If you have already renewed, please disregard this notice. HOWEVER, all correspondence should be sent to Gerry Hampton either at the home address or to the e mail shown on page 1 of this newsletter.****
Happy Skies
Carol & Gerry Hampton 