WEST COAST SWIFT WING
SEPTEMBER 2015
EDITOR: CAROL & GERRY HAMPTON AV8RGNH@SBCGLOBAL.NET 530-676-7755
Westover 2015 Sept 24-27
While we had a low number of Swifts attend this year's West Coast Swift Nationals Fly-In, I believe the lack of quantity was made up in the quality of the camaraderie and fellowship we enjoyed over the 3 days of the fly-in. Despite the devastating effects of the Butte Fire immediately preceding our fly-in, the weather was warm and clear and there were no issues, i.e. TFR that would have intruded on our flying. We had 11 Swifts on Thursday, 16 by end of day on Friday and an additional arrival on Saturday for a total of 17 Swifts during the fly-in. 10 from CA, 3 from WA, 2 from NV, 1 from OR and 1 from AZ. In addition, we had a Cessna 310 from San Diego. There were also a number of commercial air and drive ins totaling around 20 folks.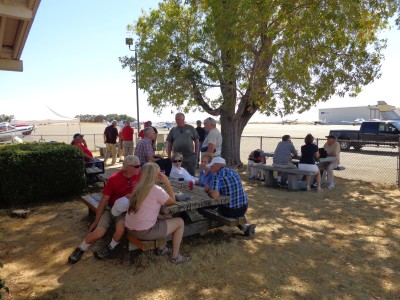 Incahoots provided the Friday night BBQ held in our host's Brad Stahl's hangar with a great chicken, ribs and brisket offering with all of the usual BBQ accompaniments. The hospitality room was well attended on both Friday and Saturday night. Both Friday and Saturday's lunch was provided on field by the local EAA chapter.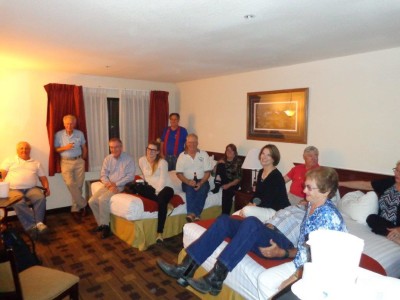 On Saturday we generated two 4 ship formation training flights with Paul and Sandy Mercandetti offering their formation knowledge in both 4 ships riding as right seaters providing valuable training assistance.
We had 18 Swifters out on the Amador County Shenandoah Valley wine tasting trail visiting a number of wineries and enjoying both the weather and wines. Frog Jones was seen buying and shipping a variety of wines from the wineries visited.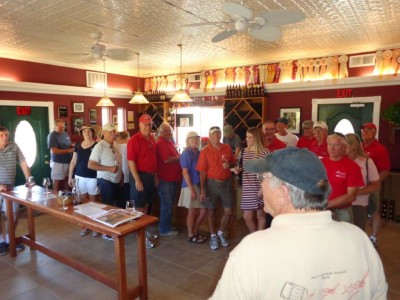 Saturday Nights banquet was held at Thomi's, with Karl Johanson doing a great job as emcee. Food was delicious as in the past. The following awards, voted on by the attendees were presented:
Best Custom Kyle Hook N90383
Best Original Brad Stahl NC3398K
Grand Champion Alan Dicker N3731K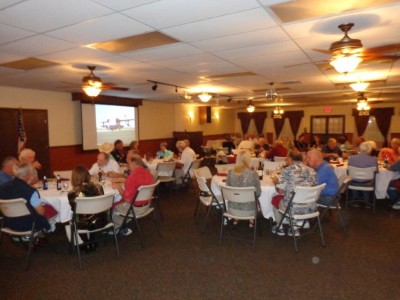 All in all a good time was had by all.

Red River Swift Wing Gathering Oct 22-25
Steve and Barb Wilson are sponsoring this and to help them plan they need to know who is coming and when. 817-578-9877. Great fun in the Lone Star State.
WCSW Fly-ins
2015 WCSW SWIFT FLY INS
Oct 17 Santa Maria, CA WCSW
Oct 22-25 Pecan Plantation, TX RRSW Gathering
Nov 15 Palm Springs, CA Palm Springs Air Museum
2015 OTHER FLY INS/AIR SHOWS
Oct 3-4 Mather Field California Capital Airshow
Oct 3 Livermore Airport Open House
Oct 17 Marysville Golden West EAA fly-in
The above information is accurate as far as we know it, if we receive notification of changes to date, time, locations, etc. we will update you.
The ANNUAL DUES for 2015 for a newsletter sent by e-mail is $5.00 and you must provide us an email address. If you want it mailed, US Post office, the dues remain at $15.00 – we still have to offset the expense of printing, mailing labels, stamps, etc. For our Canadian friends, we must continue to ask for $20.00 because of the higher postage fees.
****IF your annual dues are up for renewal, please send your check to Gerry Hampton, 3195 Bonanza Dr, Cameron Park, Ca 95682. Make the check out to Gerry or Carol Hampton, WCSW. If you have already renewed, please disregard this notice. HOWEVER, all correspondence should be sent to Gerry Hampton either at the home address or to the e mail shown on page 1 of this newsletter.****
Happy Skies
Carol & Gerry Hampton 