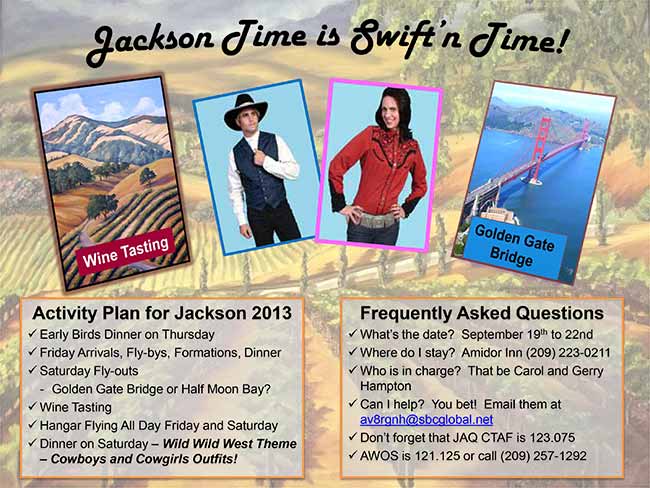 WESTOVER 2013
SCHEDULE OF EVENTS
THURSDAY SEPT 19TH
EARLY BIRD ARRIVAL
DINNER-VENUE OPTIONS TO BE ARRANGED
(Recent years have had great attendance)
FRIDAY SEPT 20TH
SWIFT STORE & REGISTRATION
OPEN 10:00AM TO 3:00 PM
FORMATION SCHOOL- 9:00 AM Hospitality room
Lunch on field- 12:00 NOON
EVENING ACTIVITIES IN HANGAR ON FIELD:
BEST COWBOY/COWGIRL OUTFIT COMPETITION FOR GUYS AND GIRLS!!
DONATION BAR 6:00 PM UNTIL??
BAR B QUE DINNER – 7:00                                                                                                                                                                                                                                                                                         AFTER DINNER STRETCH ON THE RUNWAY
(no handheld radios this time!!)
HOSPITALITY ROOM OPEN AT BEST WESTERN INN
AFTER DINNER-FRIDAY & SATURDAY
Swift Pics and Videos in the Hospitality Room
(Send Karl your Favorite Pics and Videos to vikingsd@aol.com
OR just bring some to put in the video player)
SATURDAY SEPT 21ST
SWIFT STORE & REGISTRATION
OPEN 10:00 AM TO 1:00 PM
Lunch on field at 12:00 sharp, then after lunch:
FLY OUT #1– 1:30 Wheels Up
Golden Gate Bridge Flyover
Don Thomson lead
-OR-
FLY OUT #2– Half Moon Bay
Depart right after lunch (wheels up at 1pm)
-OR-
DRIVE OUT #1 Wine Tasting Tour
Depart right after lunch (volunteer drivers appreciated)
VIEWERS JUDGING OF AIRCRAFT UNTIL 1:00 PM
Viewer's Choice ballots must be turned in to Registration by 1:00 pm
DINNER – 7:00 PM
OPEN BAR – 6:00PM-7:00PM
THOMI'S BANQUET ROOM
Video/Photo Show from 2012 Jackson and 2013 Diamond Point
SUNDAY SEPT 22nd
HAVE A SAFE FLIGHT HOME !