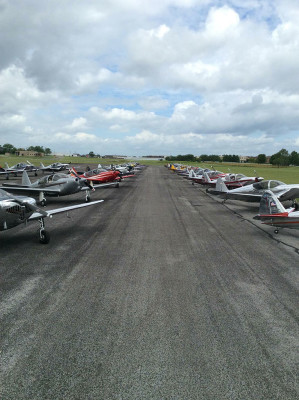 The Swift Museum is located at the McMinn County airport (KMMI) in Athens, Tennessee approximately 60 miles southwest of Knoxville, 60 miles northeast of Chattanooga and 200 miles southeast of Nashville. We have multiple Swift aircraft on display, including the first proto type #1, stock production and modified Swifts from 1946 to 1951, as well as two T-35 Buckaroo USAF trainers. These military versions of the Swift were tested by the USAF in the early 1950's. One of the T-35's is an armed version used by and donated to the Museum from the Saudi Arabian Air Force. The museum is open for individual and group tours.
Latest Fly-in Report
Don Thomson's coverage of the 2015 Diamond Point, WA Swift Fly-in over the July 4th weekend.
Flying the Swift

Sam Swift provides checklists for use when flying the Globe and Temco Swift aircraft, customized to the specific aircraft configuration.

The birthplace of the Swift was Ft. Worth, TX, in early 1940. The very first low wing, two-place retractable gear aircraft called "The Swift" was built as what would be called today a "homebuilt," by Mr. R.S. "Pop" Johnson of Ft. Worth. Mr. Johnson … COntinue Reading >>>
Membership Roster updated as of: March 27, 2015
Website access is determined by membership status. If your dues have expired and you renewed your membership after the date shown access will be granted at the next roster update.
If you have registered on this website and your name does not appear on the next Foundation membership roster, your registration will be deleted.