Editor Comments
Winter is here!!! Are we having fun yet? It seems there is virtually nowhere in the country that has been immune from the wrath of this year's record setting cold and wind….and it seems to be never ending. Snow where there is not supposed to be snow… freezing pipes… slippery highways producing traffic jams for miles    Hmmm….must be that global warming thingy. We now know a new term … Polar Vortex… well… they can take it back… not needed in my corner of the world.
Worst, as you might have already heard we have one casualty from all this havoc. Pam slipped on the ice and broke her ankle in three places. Our heartfelt condolences for Pam. What this means is that Pam will need some help at HQ for awhile (volunteers) as she will be somewhat immobile and unfortunately will not be able to drive as it was her right ankle. So when you call in for parts or whatever be somewhat prepared for some small delays. Plan ahead. Pam is scheduled for surgery Feb 10, 2014 for a plate and pins. We are all hoping for the best.
Believe it…..Sun n Fun is just around the corner….April 1-6, 2014. Bill Kientz has been working with John Drago on this. See his comments in the Board Chairman's article. C'mon….we need a good showing this year and plan to re-establish a better Swift presence this year. After this miserable winter    what better place to hang out and warm up.
Swift National: We continue to update the registration for Swift National in Dayton. Please read closely the form for a few small changes. Specifically: 1. Make your checks payable to Swift Museum Foundation, Inc. 2. Please include the name of your spouse, companion or any others who will be at National with you. 3. Indicate whether you will need transportation. (We will have vans to transport you to and from the hotels – Hilton Garden Inn and Hampton.) We will also provide transportation to the USAF Museum on Friday June 6, 2014. 4. FYI: If you are traveling with your pet the Hilton Garden Inn does not accept pets. However, the Hampton Inn has a new policy to accommodate pets for $25.00 a night. (Please see the information sheet for details, locations etc.).

Executive Director Comments
I can attest first hand to the nastiness of our prolonged winter. Things are going reasonably well after my fall and will conduct business as best I can on my forays to HQ. I have not been allowed any weight bearing on the foot until after surgery on the 10th. (Thank heaven for my husband Jack keeping things going here at home.) Scott Anderson has graciously offered to chauffeur me to work as I am able. I plan to conduct business from home as much as possible in between office days.
We have a lot to do and need to get ready for Sun n Fun. We need a volunteer to run the schedule at the type tent much like Stan Price has done for years at Oshkosh. Essentially this entails setting up any merchandise we have to sell, answer questions about Swift and keep the schedule moving through the week. We normally set up a schedule of two hour blocks and frankly it is a nice period to cool off and rest a bit from the activities of the show. Please consider helping out on this. It is fun..easy..and you get to meet a lot of great aviation enthusiasts. If you are not interested in coordinating the schedule but are willing to help out an hour or so, please let us know.
We are also getting well along toward moving the office and some supplies/parts into our new facility. We will need volunteers to help do this and I will do the best I can to provide direction and organization. We'll let you know the planned date and details by Swift email.
According to Mayor John Gentry the perimeter road project is stalled until at least early March. Their funding is somewhat in limbo and the project needs some approval and "hoops to jump through" in the bureaucracy. Let's keep our fingers crossed for a quick resolution.
Paul Mercandetti has been volunteering a lot to work toward getting parts moved. He has almost single handedly performed the inventory of our parts. We plan to move most of the parts before we move the office. As much as we look forward to being in a clean, warm workplace… this seems to be the best way to go. One way or another it will get done and we hope by early March.
N3271 K will not be raffled this year as planned. We cannot submit an application in Tennessee until June and that will be for a raffle in 2015. The plan to set up the raffle in Florida fell through. Perry Sisson was working on that but when all the fine print in Florida's raffle rules were vetted ….there were just too many uncertainties to accommodate a raffle there. Meanwhile, the SSAG has the bird down in Georgia and a group led by Bo Mabry will start working on 71 K this month. This is a good bird. Once we get it tweaked it will make a very nice (Lyc 180 with sliding canopy etc) Swift for someone. Please keep your eyes open for a buyer as we need to sell it this year.
Board Chairman's Report
by Bill Kientz
We held a telecom Board meeting on Jan 31 to discuss the insurance program for Swift. We had some expert help from Sam Swift's friend, Frank who gave us many ideas on how to reduce our costs which the Board will act on. As mentioned, we now plan to sell N3271 K when the SSAG is through working on it. Perhaps it could be ready for display at Sun n Fun.
Coming up in two months … yes two months….is Sun n Fun. I have been working with John Drago on this and he has done a splendid job in getting us re-established at Sun n Fun. We will have a table in the Type Tent, preferred parking and a reserved spot in front of the Antique Classic Building for our display bird. We are trying to get Swift back into the overall picture at Sun n Fun and John's initiatives will certainly get us going in the right direction. If you are going to Sun n Fun please let us know and we will keep an unofficial list of attendees to help with planning the meetings and events. As mentioned we have a table at the type tent. This should work well and the SSAG is planning to run the table for us and tend to the volunteers. Stay tuned. Sun n Fun is scheduled for I – 6 April this year.
Izzie and I are going to Australia from Feb 4 to Feb 19. If you have questions or issues please refer them to Will Roberson during this period. Unfortunately, Pam is to have surgery on Feb 10′ so Will should be your best bet for the next couple of weeks.
And sadly … I also want to acknowledge the passing of Buzz Winslow….a very good friend… who taught me almost everything I know about the Swift. Our relationship started back in Southern California in the early Seventies. Buzz was my Swift mentor and Guru.
One of Buzz's most remarkable traits was his strong will. I remember an episode in early 1981 when I had just converted my Swift with the 210 hp Continental STC and added the Lischer Sticks STC. Chuck Lischer, another close friend, and Buzz got into a disagreement on the interactions of the two STC's when installed together. Buzz, my IA, and Chuck … an engineer who installed my sticks … spent the better part of a whole day arguing about a required Bungee installation for the 210 STC. Chuck didn't want any Bungee … i.e. springs messing up his stick's control response. Buzz was set on installing the Bungee as required by the STC and Buzz ultimately won out! However, I should note that somehow that Bungee mysteriously disappeared and has not been seen since.
Buzz Winslow was a true Swifter thru and thru. His smiling face and love for the Swift will be a constant reminder of this truly great little airplane that has brought so many of us together. Buzz will truly be missed. We all wish his wife Barbara and family the very best in this time of sorrow. Buzz…. I wish you smooth air and a strong tailwind on your journey home.

In Memory of Murray "Buzz" Winslow
Last month, just at press time we were sadly informed of the passing of a long time Swifter….Buzz Winslow. We were not able to gather information for that issue but are pleased that some great friends of Buzz quickly responded with some information for us to pass on to our members. Obviously Buzz created a lot of stories through his incredible flying career that sort of built his legend over the years. Buzz was a member of the "greatest generation"…. a generation that knew how to get things done, knew how to overcome obstacles and of course they possessed the courage and elan to just somehow always keep moving forward. He was born in the "Roaring '20's" which somehow seems very appropriate when you view his lifetime of experiences through the "Depression of the 1930s", WW II, Korea, Vietnam, an Air Force career and of course his adventures as a Swifter for 38 years. We don't have enough space to cover all his exploits… as that would surely fill a book. However, the following "hangar tales" will provide those of you who did not know Buzz or know him well… a glimpse of this exceptional man and fellow Swifter.
Murray "Buzz" Winslow was born in Pittsburgh, PA in 1924 and "went West" in Hemet, CA just last month. A life time spanning nearly 90 years. Like many of that generation he was chafing at the bit to get into the action as WW II developed into a huge conflict. He volunteered for the Air Force and after pilot training went to advanced training in P-47s and ultimately the P-51. Buzz had a natural affinity for flying and it showed throughout his early training. He easily transitioned from aircraft to aircraft and from many accounts was one of the best "stick and rudder" pilots in his units. Confident, aggressive (sometimes a bit too aggressive) he got grounded in Florida as his commander was not amused at his buzzing the town in his P-51 in order to impress a young lady thereabouts. Not to be deterred Buzz talked himself out of that jam and ended up in P-47s in the Pacific flying air to air and air to ground sorties.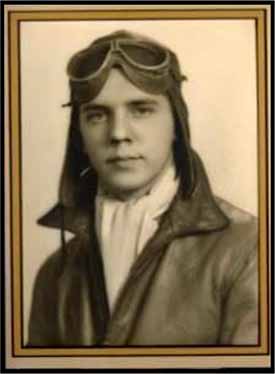 It was on one of these forays into Japanese territory that he got shot up badly and had to bailout of his P47. During this bailout attempt he got half out of the cockpit but his pant leg caught on the canopy handle and he was hung up and amazingly still had his headset on and he could hear his circling mates above yelling at him to get clear of the damaged P-47. He remembered pounding on the side of the aircraft and watching the water get closer and closer. He did finally get free at the last moment but landed in a poor position and hard… in the swells. Since Buzz was an exceptional pilot his commander appointed him to escort and fly with Charles Lindbergh when he was touring the Pacific Theater. Throughout his aviation career he met many luminaries and was the instructor of W. P. Lear, famous aviation pioneer. He is mentioned in Lear's book…"Fly Fast … Sin Boldly".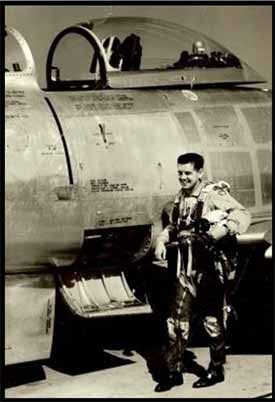 Buzz did relate… that years later when he bailed out of an F-86 in Korea he remembered the P-47 predicament as he was exiting the F-86. On that bailout he found the water off Korea to be extremely cold and said that he would not have survived that bailout if he hadn't been fairly close to shore and the rescue units.
Fast forward to Korea where Buzz was in the 335th Fighter Interceptor Squadron/4th Fighter Interceptor Wing flying F-86s. Buzz was known as a tough adversary in air to air and would fight anybody… anytime… and anywhere. Although he was only in Korea a short period he did shoot down 3 MiG-15s. When asked what it was like to shoot down a MiG at 40,000 ft? He said it wasn't much to see…"you just don't get a good burn up there… not enough oxygen!" He did relate one shoot down… Buzz had damaged a MiG pretty severely and was circling him when the MiG made an aggressive move…  Buzz just pulled up behind him and sent a strong burst into his rear a second time and this time the pilot bailed immediately. Later, while testing an F-86 he fired all 4 guns simultaneously at high altitude and induced a compressor stall from all guns blazing at once. Lesson learned and after a difficult air start sequence he did get the engine running well enough to get back to base and pass on to others the experience. "Once was enough for me" was his only comment after that incident. (Thanks to Don Duke for these excerpts and photos)
Buzz liked to refer to air to air combat and maneuvering as "Sky Dancing"… "When I was Sky Dancing … I was one part earth… one part sky and one part aircraft". (Having done a lot of air to air … I found that description very apt … and so true….Ed.) Buzz continued his AF career and retired after 20 years with the rank of Major. Along the way he transitioned to the F-100 and flew it several years and got heavily involved on the maintenance side of flying. This would serve him well in his later careers as mechanic and corporate pilot.
Many of you have seen or recall his Swift…. N 78150. He owned and flew "Yellow Bird" for 38 years. It was equipped with a Lycoming 180, sticks and a nice flat panel.
His life changed dramatically in 1983 when he found his true love and got married and thus became soul mates for the rest of his life. They flew everywhere together, he taught her to fly and taught her advanced maneuvers and formation. He even bought a Swift for her and they flew formation all over the USA. Truly a deep felt relationship. It seems they were both good dancers and would plan their last flight of the day to be near a dance floor so they could relax and enjoy the evening together. No one seemed to have more fun being together that Buzz and Barbara.
The stories could go on and on but we have run out of space to relate them. Buzz and Barbara retired in 1992 and moved their business to Georgetown, Ohio where he received awards from the FAA for Technician of the Year for the Great Lakes Region and he also received the Charles Taylor Master Mechanic Award. Buzz is survived by his wife Barbara, stepsons Ronald and Sean and their wives Roxanne and Donna plus his 5 daughters Kathy, Nancy, Linda, Jane and Paula plus his three grandchildren Melisa, Natalie and Garret.
Buzz has now gone west … a great pilot, good friend to all and a true blue Swifter….so now… Buzz is free to loop, roll and dogfight and continue Sky Dancing. He will be missed.
Formation Update
by Michael Kennedy
With the new year it is time to remind SFC members to renew their SFC formation cards. The form is located on the FAST web site: FlyFast.org. Go to Documents, then Formation Forms and print the "Fast Formation Proficiency Report." Mail this form to Swift HQ: Attn: SFC Renewal. Please include your check for $15.00. Happy formation flying in 2014. Questions: Michael Kennedy or Sandy Mercandetti.
This and That
Used Parts: We have all had the occasion to buy or consider buying used parts. Bottom line: Let the buyer beware. There are many good parts out there that substantially reduce the impact on your pocketbook and many of these parts will deliver nearly the reliability and efficiency you are looking for. However….caution is advised… but you can greatly increase your probability of success and reduce your risk by following a few simple guidelines.
The piece you buy must work.
It must work on your aircraft.
The price has to be right (you are essentially taking all the risk).
Your mechanic or installer has to actually fit this part onto your aircraft and make it work.
Sounds simple and it is … but… buying used parts is not the time for a cavalier attitude. Once the deal is done … in most cases…the deal is done.
There are some common guidelines that can help and the following descriptions may help you out:
Factory reconditioned/ remanufactured. Probably the most reliable source. Usually comes with a 6-12 month guarantee.
Overhauled. Usually a good buy and may come with a warranty.
Yellow Tag: Good buy. May or may not come with a warranty. Tag indicates that it complies with FAA specifications….which means it has been tested and inspected and conforms to manufacturer specifications.
Green tag. Use caution. Indicates the unit is expected to be serviceable or repairable… but… no guarantees of its condition are given.
As Removed. Buyer beware. No testing or inspections have been completed and nothing is known or implied about its condition.
Bottom Line: Make sure saving bucks on used parts is worth the risk. Most times it is….but…..!!!
Aboard the USS Nimitz
by Pam Nunley
I know many of you have been to Hawaii but this was the first trip for Jack and I.  As you know this was a pretty special event as the 6 day return from Hawaii was aboard the USS Nimitz. Our daughter, Candice, was a pilot aboard the Nimitz flying the EA-613 Prowler electronic attack aircraft. It was awesome to see this aircraft operate on and off the carrier with the knowledge of our "little girl" doing this day in and day out for the last 9 months on deployment. Equally impressive was to learn and observe her additional "ground job" as LSO (Landing Signal Officer) bringing in other aircraft. If you have never seen carrier deck operations it is an incredible workplace for all those young seamen (male and female) who go about their duties in a dead serious and intensely focused manner. They are all color coded….Red vests for ordinance… Yellow vests for-launch and landing duty… Green vests for maintenance… Purple vests for fuels … and the ones in Brown are the aircraft captains. They swarm over the deck in an almost choreographed ballet doing their duties at the right time and in the right place. One Chief referenced to this as "organized chaos" This is all done with hand signals since the noise on deck is deafening…..what a magnificent operation. You should be very proud of all these dedicated young men and women as they operate this incredible fighting machine for this great country we call home… the good old USA.
You get a lot of exercise on a ship, you go up and down ladders wells to do almost everything… go to chow… find your sleeping quarters … get to your duty stations….constant motion. Shoes are important since the decks are steel and terribly unforgiving to any flimsy footwear. We were told that the food situation was much better after we, the "Tigers" came on board. It seems that things were pretty slim during the unscheduled deployment extension. However, the food was great and seemed to be in good supply. After all… you are dealing with around 5000 or so young men and women with an average age between 18 – 25 and huge appetites.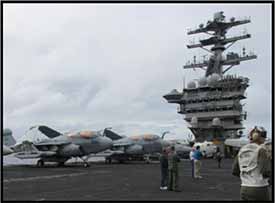 There are many other tales to tell on such a great ship … but the whole act of bringing this fighting ship to life during operations is nothing short of amazing. There seems to be a rhythm to the activity as all the crew members go about their duties each and every 24 hour day. The activity never stops. We were very fortunate to get to tour a large portion of the carrier, from the Bridge and "Vultures Row", the hangar bay, flight ops to all the way down into the forecastle (fo'c'sle) and below. We were also treated to an awesome air show from the flight deck and were able to observe launches and traps as well. What a ride!!!
I could go on and on but I want to relate one other event in this trip that was incredibly impressive and emotionally moving. While on Oahu Jack and I had the occasion to visit the USS Arizona Memorial. After watching a moving video on the attack we were transported to the Memorial past the USS Nimitz. That alone was a moving experience. Once inside the mood was very reverent and solemn. What is almost stunning is the effect as you walk around the outer railings and peer down into the crystal blue water …..as your eyes adjust you finally see the outline of the battleship USS Arizona …and there are still … 72 years later, bubbles of oil rising to the surface coupled with the smell of oil as well. Then it hits you… here is the grave marker for over 1100 American sailors who still lie entombed just a few feet below you. For those of you who have visited this site you know the myriad feelings that come forth. This is one of the most emotional experiences I have encountered concerning our American Military.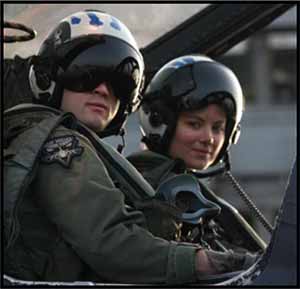 We "set sail" a couple of days later on the USS Nimitz. As we took our places on deck we were given a complete history of the harbor up to and after the attack. What a history lesson. We along with the crew rendered honors to the magnificent USS Arizona and her memorial. This has to be one of the most moving moments we have ever experienced. There is no way to express the feeling of gratitude for our American Military. This was another awe inspiring honor for these fallen warriors. How lovely, how appropriate and how appreciated. As an added bonus, the USS Missouri was docked in the harbor as well.
There are a lot of other stories to tell but hopefully this will give you the flavor of our wonderful journey. We were all treated wonderfully by everyone in the Air Wing, VAQ 142 Gray Wolves as well as the entire crew. Many thanks and great admiration go out to the crew of the USS Nimitz CVN 68. Thank you for allowing us this glimpse into your world.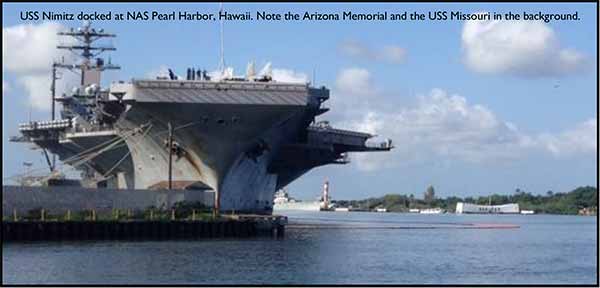 Please take a moment and fill out your Swift National 2014 Pre-registration form and send it in. We are looking forward to a great event this year at Wright Brothers Airport (KMGY), Dayton Ohio – June 4 – 8, 2014