WEST COAST SWIFT WING
July 2017
EDITOR: CAROL & GERRY HAMPTON AV8RGNH@SBCGLOBAL.NET 530-676-7755
Swift National in Cleburne, TX, KCPT is Oct 4-8. Please plan on attending this fly-in. See below for more information.
Westover 2017 June 9-11
Despite the weather, we had a good turnout with 30 Swifts attending—including 9 from the Red River Swift Wing. We so appreciate them making the effort to cover that long distance. Breakdown as follows:
CA 14; TX 7; WA 4; NV 1; OR 1; AZ 1; KS 1; and LA 1.
Weather scrubbed the planned fly out to Eagles Nest on Friday to visit Sanders Aircraft and get to see the warbird projects they are working as well as their flying Sea Fury's. Maybe another year.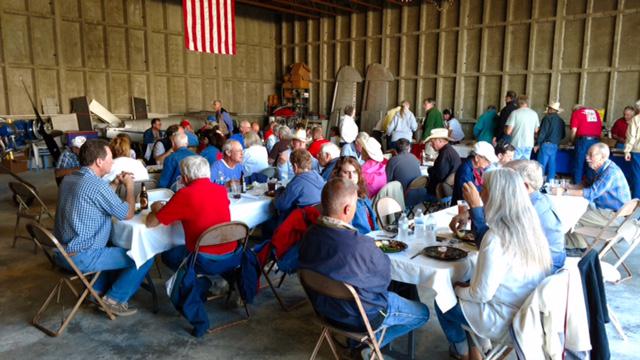 The Friday night BBQ, catered by Back 40 Texas BBQ, in Brad Stahl's hangar was a huge success—69 people attending and enjoying the bar, food, comradery, and Carol's cakes. After departing the hangar, we adjourned to the hospitality room and continued the hangar flying in a non-hangar location.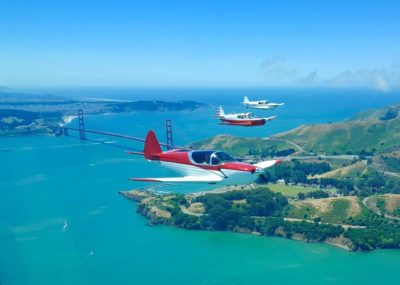 The Saturday fly out to the Golden Gate Bridge, led by Kyle Hook was very successful with 9 total aircraft participating in 3 separate flights.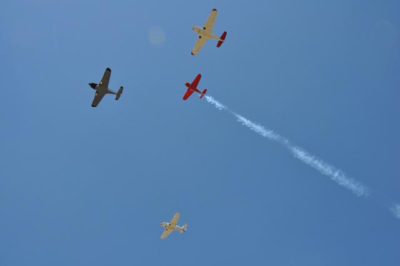 On the return home, Kyle's flight provided a missing man formation for Swifters Gone West, especially for Kirby Warden of Texas. Thanks to Stan Price for the narration and explaining the "Gone West" origins.
Wine tasting was led by our resident "Wino", Karl Johanson and he reports the following:
We were pleased to have the largest turnout in history for the annual wine tasting tour. This started out several years ago as a sidebar for those who were not pilots or simply not keen on joining in fly-out activities. Rather than being "torn" between choices of flying or tasting, this year we planned the flying in the morning, lunch at the airport and then off to partake in the other pass time, sippin 😉
In order to not appear as a Swift Invasion of each winery, we divided and conquered. And conquer we did, with three caravans, we set out to visit nearby Plymouth where the largest concentration of wineries makes choosing which one a task in itself. Given the general loop layout of the wineries we split up and broke left and right at the fork. However well intended, we still ended up meeting in the middle as the photos attest. Thank God they had a large tasting room!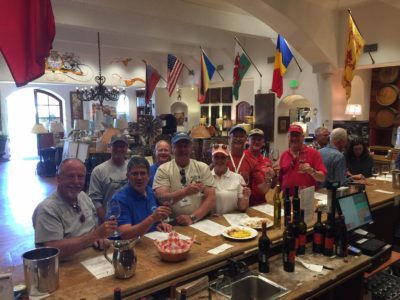 Had a great time and some of the spoils went home FedEx and others (me included) chose to simply break open the bottle at our Saturday evening dinner. Perfect way to spend an afternoon, especially after a morning flight that included 3 flights of Swifts (total 9 aircraft) passing by the Golden Gate Bridge at 1500 ft. Karl Johanson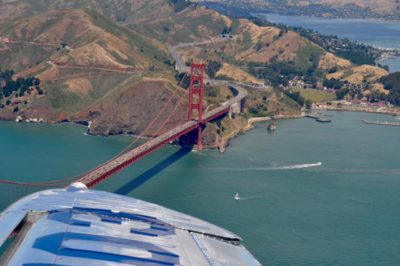 The Banquet at the Highway House (formerly Thomi's) had 45 Swifters in attendance. The food was excellent and plentiful. Don Thomson was, as always, a superb MC keeping everyone entertained and moving the event on skillfully. An announcement was made that the West Coast Swift National at Westover Field would not be held in the future, however, Don Bartholomew and Brad/Kathy Stahl will host a regional fly-in there next year—see below.
Awards handed out this year are as follows:
Viewer's Choice Best Original—N3398K Brad Stahl
Viewer's Choice Best Custom—N3731K Alan and Janet Dicker
Longest Distance Traveled by Swift—Jerry and Holly Bauerle, Louisiana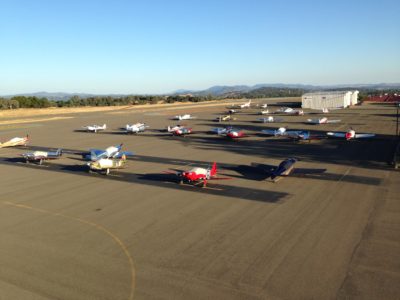 NW Swift Fly-in Cottage Grove, OR 14-15 July 2018
Kent Koester will host the NW Swift Fly-in at Cottage Grove OR 14-15 July 2018. The Village Green Resort will be the fly-in hotel/hq. More to follow, but this is a great fly-in and you should put on your calendars and plan to attend.
Westover 2018
First I would like to thank Carol and Gerry for all the work they have put in over the years to put the Westover flyin together, and also all the other Swifters that attended Westover 2017. After it was announced at the banquet that there would not be a Westover flyin next year a lot of people were surprised. Many people I have heard from were disappointed of the cancellation.
After talking with people it appeared that Swifters wanted Westover to continue so myself, Brad and Kathy Stahl, and the other Swifters around Jackson decided to put on Westover next year. It will not be the "West Coast National Swift Fly-in", just a regular weekend regional flyin. Of course all Swifters are welcome no matter where they are based.
The exact date for Westover 2018 has not been set yet. It is expected to be somewhere in the normal timeframe from the third weekend in September to the first weekend in October.
More information will follow.
Don Bartholomew
Swift National Oct 4-8
The RRSW is hosting Swift National at Cleburne, TX, KCPT.
More info will be forthcoming in the next several months. Put on your calendar and plan to attend.
From Steve Wilson:
We are moving along on the preparation for the Swift Flyin at Cleburne, TX 10/4 thru 10/8/2017.  The following are motels we have booked rooms:
Our Hospitality Room will be at the Hampton Inn where we have booked 40 rooms presently.  We are hopeful that we can get more.  We also have booked 40 rooms at the Holiday Inn Express about a city block from the Hampton Inn.
We will have a service that will serve both locations with transportation to and from the airport.  We also have made arrangements with Enterprise Car Rental for pickup and return of cars at the airport for those who would like to have their own vehicles.  Yes, it is early; however, I suggest that you start booking rooms now, to avoid any disappointment later.  You can always cancel!  Be certain to mention that you are with the Swift group to get the special rate.  Here are the local numbers for these:
Hampton Inn, 817-641-7770
Holiday Inn Express, 817-641-5300
Enterprise car rental, 817-645-6996
Events/Activities:
Possible activities if enough interest
Fly-out: Thursday Ezell Aircraft Restoration – Bridgeport, TX & Lunch
Fly-out: Cavanaugh Flight Museum – Addison, TX – Date open
Outing: Friday Bus trip to Ft Worth Stockyards and Dinner
Outing: Dealy Plaza in Dallas and Lunch – Date open
Outing: Fossil Rim – Date open
WEDNESDAY:
Dinner at local restaurant
THURSDAY:
Lunch at Hangar
Formation Ground School
Dinner at Hangar
FRIDAY:
Lunch at Hangar
Dinner at local restaurant (For those not going to Ft Worth)
SATURDAY:
Lunch at Hangar
Dinner, Awards, Silent Auction & Raffle Drawing
SUNDAY: DEPARTURE
Legend of Flight Pancake Breakfast
The Legends of Flight Museum puts on a pancake breakfast the fourth Saturday of the month, April thru October. See flyer.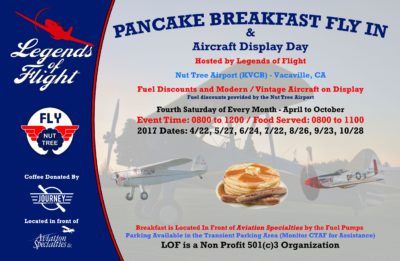 This is a nice get together with a wide variety of aircraft to peruse. I would encourage you to attend.
2017 WCSW SWIFT FLY INS
Oct 4-8 Cleburne, TX KCPT Swift National
2017 OTHER FLY INS/AIR SHOWS
Jul 15 Colusa County Airport Colusa County Old Time Fly-in
Jul 24-30 Oshkosh, WI EAA Air Venture
Aug 19-20 Camarillo Camarillo Air Show
Sept 1-2 Watsonville Wings over Watsonville
Sept 9-10 Mather Airport Capitol City Airshow
Sept 13-17 Stead Field Reno Air Races
The above information is accurate as far as we know it. If we receive notification of changes to date, time, locations, etc. we will update you.
The ANNUAL DUES for 2017 for a newsletter sent by e-mail is $5.00 and you must provide us an email address.
****IF your annual dues are up for renewal, please send your check to Gerry Hampton, 3195 Bonanza Dr, Cameron Park, CA 95682. Make the check out to Gerry or Carol Hampton, WCSW. If you have already renewed, please disregard this notice. HOWEVER, all correspondence should be sent to Gerry Hampton either at the home address or to the e mail shown on page 1 of this newsletter.
Happy Skies
Carol & Gerry Hampton